This winter we had a once-in-a-lifetime opportunity to travel to South Africa with our son James. Why, you may ask, would we travel half way around the world with a 17 month old? To see Grandma and Grandpa! Jeff's parents are serving a mission for our church in Johannesburg, South Africa and have been there 2 1/2 years and have never seen James.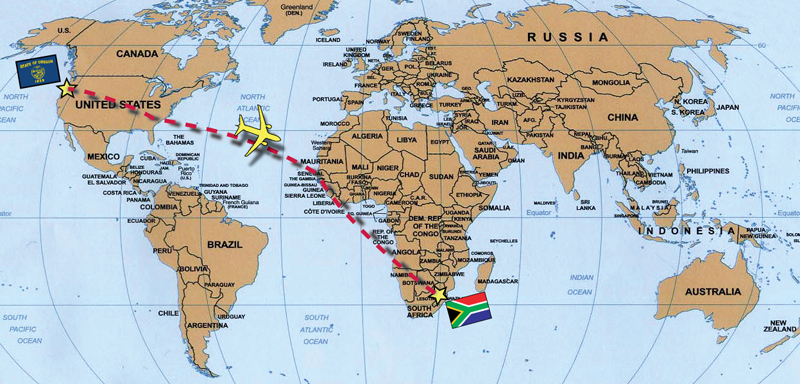 We traveled about 20 hours in the air (30 total) and 11,000 miles from Portland to Johannesburg with a stop in Atlanta and a brief stop in Dakar, Senegal. The stop in Dakar was just to refuel and resupply food and crew. We didn't get off the plane but we were required to stand up and claim our carry-on bags while a security crew came through the cabin. They even pulled up the seat cushions to search, although we weren't sure what they were looking for.
When we landed they came up and down the aisles spraying some sort of pesticide which they said wasn't harmful to breathe. Apparently there are many countries in the world requiring airlines entering their airports to spray aircrafts as a type of quarantine to prevent transport of insects which may cause problems or disease in humans and plants. We didn't get an actual picture but this shows pretty much what we experienced.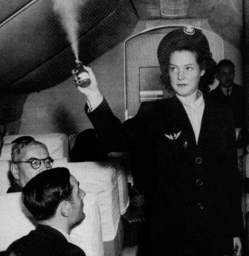 We finally arrived! We were so excited to see Grandma and Grandpa and were looking forward to changing our clothes and sleeping in a real bed. The time difference from Oregon was 10 hours so it was hard for all of us to adjust, especially James. It took three nights of James waking up at 2am wanting to play before he finally slept through the night.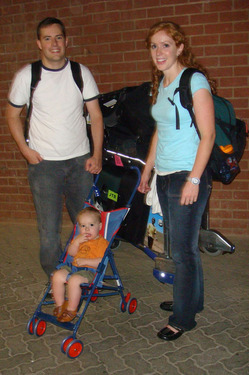 Our first full day in Africa and we were off to see our first glimpse of African wildlife at the Rhino and Lion Nature Reserve, a privately owned game reserve. The guidebook assured us we could expect to see up to 600 head of game and I'm sure we saw that many but most were zebra, impala, and other deer-like creatures. In fact, we never saw a Rhino despite the name of the park.
We drove our own car in the enclosures and made sure to read all the rules. We were advised not to open our windows more than 33% and to "ensure that [we] are not parked in and can get away speedily." I'm glad we didn't find occasion to test this rule since no animals attacked our car.
The predators (lion, cheetah, wild dog, etc.) were kept in separate enclosures as to not kill the other game. This had the added benefit of making it easy for us to find them. We found a group of lions just lying in the grass right out the car window. It was so thrilling to be so close to wild animals like this!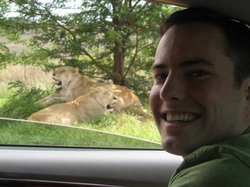 The animals we saw at the reserve included: Lion, wild dog, cheetah, springbok, hippopotamus, warthog, waterbuck, zebra (they pronounce zeh-bruh), cape buffalo, wildebeest, impala, blesbok, vultures, secretary bird, and ostrich.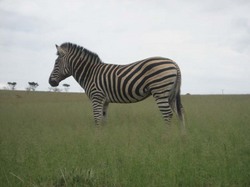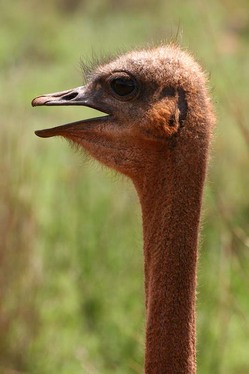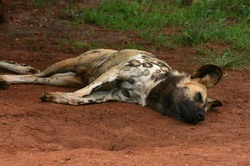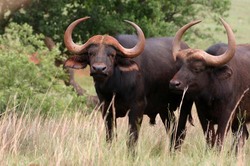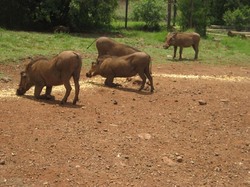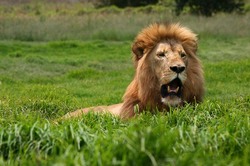 For the first couple days we stayed near the mission home and generally tried to recover from jet lag. James explored and caused trouble as usual. We caught up with Jeff's parents, met the assistants and some of the other Elders.