Arrived safely in Haifa
Hello everyone!
We arrived safely in Haifa. Brooke did very well on both plane flights. In fact she slept much of the time. We wish we had. The drive from Tel Aviv to Haifa also went well. Our car is very small though. When I get a chance I will add pictures.
We are going to sleep now. We will get our orientation tour of Haifa tomorrow.
Posted by sjbowden at
9:34 PM
House hunting trip
We leave for our house hunting trip November 29, 2003.
Posted by tiffany at
9:23 PM
Picture of Haifa
Here is a picture of Haifa: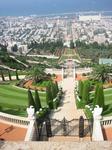 Posted by sjbowden at
7:22 PM