She walks!
This update covers a few weeks, as we haven't done anything major.
We went to Beit She'arim on October 1st. It is a National Historic site, so our National Park pass let us go for free. It is a collection of caves that were used as burial chambers beginning around 200 AD and continuing for a few hundred years. There are Jews buried there from all over the Middle East. It all started when a famous rabbi was buried there. Then another rabbi stated that being buried in the land of Israel is as good as being buried under the altar of the temple. This made it a popular place.
The caves were fun to explore. Some went back into the hillside a long ways and others were just big enough for one or two sarcophagi.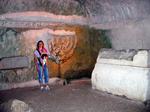 Inside the caves at Beit She'arim
Tyler didn't love the dark in the deep caves. It was a little eerie. He did have fun running around though. Here he is at the entrance to one of the caves.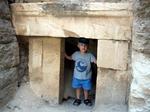 Tyler at one of the cave entrances
Brooke amazed us a little while ago by climbing onto the couch. We guess she got sick of being left on the floor while the rest of us were sitting on the couch. It is amazing to watch her climb up. Unfortunately, she isn't very careful when she is on the couch so we have to watch her very closely.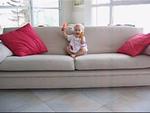 Brooke climbing onto the couch (video)
A few weeks ago was the Sukkot holiday. Tyler insisted that we build him a Sukka. He had fun playing in it, and we even ate a treat in it. Now he asks to build a Sukka the way most kids ask to build a fort.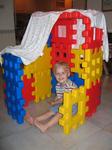 Tyler's Sukka
Brooke enjoyed playing in a Sukka as well. We did a lot of remodeling.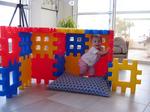 Brooke's Sukka
A few weeks ago we went to Ikea, near Tel Aviv. We had lots of fun. We bought storage baskets for the toys, a stool so that Tyler can wash his hands at the bathroom sink and some kitchen stuff. We were disappointed that they did not have Swedish fish, but thrilled to find they carry one of our favorite European candies, D'aim. It tastes a little like a Skor bar, and when we lived in France the only reason to go to McDonald's was for a D'aim McFlurry. We stopped and visited our friends the Alsops while we were in the area.
We are happy that Brooke's birthday toys were such a hit. Brooke is almost always carrying around a piece of plastic food. Tyler loves making food combinations out of the pieces, like grape-avocado or cucumber-kiwi. He even put three pieces together that looked just like an ice cream cone: a corn cob, pineapple slice and a strawberry half.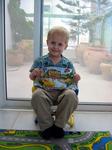 New fruit snacks!
Brooke's favorite piece of plastic food is the carrot.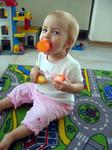 Yummy plastic carrot
A week ago we went to Herziliya so that Scott and Tiffany could get more pages added to their passports at the embassy. Having work and residency visas that fill whole pages has left us with no room for more stamps. Afterwards, we went on a double date with our friends the Van Ormans. It sure was nice to leave the kids with a babysitter, have dinner and watch a movie.
Brooke now loves to ride on the push toy as much as Tyler does. In the video below they are riding on it together. It sure is nice when they play together so well.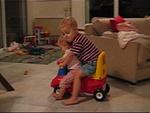 Tyler and Brooke driving (video)
Tyler still loves trains. We are very glad that we brought his wooden train set with us to Israel. Of course, he isn't very happy when Brooke takes a train or a piece of track from him.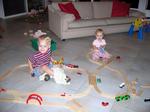 Fun with trains
We used to think that Tyler was a goof-ball because he was a boy. Now we know that it must be a recessive gene that we didn't know we had because Brooke is a goof-ball too. Brooke really enjoyed wearing this plastic bucket. Tyler put it on her head, but she left it on for a long time.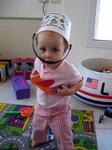 Brooke's safety helmet
Brooke likes to dance to music. Now that she does so well standing up, she has lots of fun at her piano.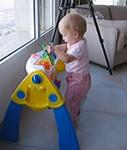 Brooke dancing at her piano (video)
We have been saving Brooke's big news for last. She now walks. She had started taking a few steps before her birthday, but she preferred to crawl. Then last Sunday she must have decided that she wanted to walk, because now she doesn't crawl anymore. She is already very fast. She still falls down when she gets going too fast or when she is trying to carry too much. When she falls, she gets right back up and starts walking again. As you can see, she is definitely a "toddler."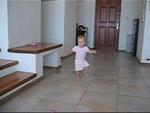 Brooke walking! (video)
Tyler-isms:
"This is good salt." - That's because it is sugar.
"Where's the other half?" - Wondering where half of the moon went.
"These are that I've been asking for." - Upon receiving a package of fruit snacks from Grandma.
"I'm coloring the grass green because I said, 'Oh, grass is green.'" - He has a keen eye.
"Is it shady today?" - On an overcast day.
"The person with a white shirt, black pants and red shoes." - Tyler describes people by their clothes.
"Dark nap" - A nap that you take when it is dark, or in other words, sleeping at night.

Posted by sjbowden at
10:03 PM