Visiting Jerusalem
After we visited Qumran, we traveled north to Jerusalem. We checked into our hotel and walked to the Old City. It was fun to take Scott's parents to Jerusalem because it gave us an excuse to see more than we had seen before.
Below is a picture of a typical street in the Old City. The streets are narrow and at times very crowded. Fortunately, it was Thursday so it wasn't too crowded. As you walk down the streets vendors are trying to sell you things. Showing even a little interest means you will be surrounded by people trying to get you to buy kitschy souvenirs.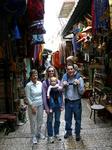 The narrow streets of the Old City
The Western Wall is segregated into sides for men and women. When the guys went up next to the wall, the girls were told they were too close to the men's side because they were standing near the entrance.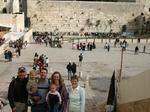 At the Western Wall
Previously, we visited Jerusalem on Friday. Friday is the Muslim day of worship, so we hadn't been able to visit the Temple Mount and the Dome of the Rock. Since it was Thursday, we were finally able to see it. We were asked at the entrance whether we were Jewish, Christian or Muslim before we could enter. Religious Jews are forbidden from going there to prevent them from accidentally walking across where the temple once stood.
The Temple Mount is very different from the rest of Jerusalem; it is huge and mostly empty. The interior of the Dome of the Rock is closed to non-Muslims to make sure that things stay calm. We wandered around for a while, took pictures and then headed to the Church of the Holy Sepulchre. Many people believe this is the site of Christ's tomb. We found it to be a gaudy and dreary place.
The Dome of the Rock
Tyler had been asking for an olive wood camel all day. We could barely talk without Tyler asking for his camel. We knew there were some nice souvenir shops near the Church of the Holy Sepulchre. Scott's mom found a widow's mite set in a pendant at an antiquities shop. Then we started looking for camels and nativities.
We found a wonderful shop where the employees set out all the camels they had so that Tyler could chose which one he wanted. He took a long time deciding and when he finally picked one they said it was a gift for him. They also gave Brooke a set of Christmas ornaments because she was so cute and kept smiling at everyone. We spent over an hour in the shop and by the time we were done we had bought an olive wood nativity set and Scott's parents had as well. It was a great experience. Before we left, the shop owners also gave Tyler and Brooke a Santa Claus candle.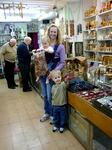 The shop where we bought nativities
Our next stop was the BYU Jerusalem Center. Scott was able to arrange a private tour even though the center was closed for the holidays. The missionary couple gave us a tour and then our very own organ recital in the auditorium overlooking the Old City of Jerusalem. Afterwards, we went back to our hotel and ate a great dinner at a little restaurant called the Olive and the Fish.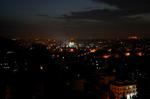 Jerusalem at night
On Christmas Eve morning we drove to the Garden Tomb. We got to the gate and discovered that it was closed. Fortunately, a Nigerian tour group had arranged a private tour and we were allowed to go in as well. After they finished their tour they had a Christmas service, so we were allowed to stay at the tomb by ourselves for a half hour.
The Garden Tomb is completely different from the Church of the Holy Sepulchre. The garden is beautiful and very calm and peaceful. Several of our modern prophets have declared that this was the place where Jesus was buried. There is a special spirit there.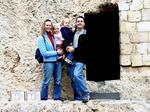 In front of the Garden Tomb
Our next stop was Gethsemane. It started to rain, so it was cold and wet. It was neat to see the olive trees, some of which date to the time of Christ. We looked over the Kidron valley (much smaller than the word 'valley' makes it sound). Then we went to the Jewish Quarter of the Old City for lunch. We like the Jewish Quarter because it is much cleaner and calmer than the rest of the Old City. We wandered around a little bit and then left the Old City.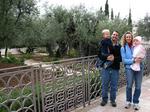 Us in Gethsemane
We know we're a month late, but we hope to catch up on Christmas and the rest of Scott's parents' trip soon.
Tyler-isms:
"Daddy's parents" - Grandma and Grandpa
"Valanna" - Vanilla
"I'm just checking to see if the fridge is still cold." - why he opens the fridge so many times a day.
Brooke-isms (not really things she says, but things she does):
Dances to music - turns around in circles
Does the sign language sign for 'more'
Nods her head vigorously for yes
Posted by sjbowden at
9:38 PM
Scott's Parents Arrive
Scott's parents arrived in Israel to spend two weeks with us. We were glad that the new airport terminal had just been opened so they arrived in a modern, clean, new terminal instead of the 50 year old one. We were so excited that they came so far to visit us. We hadn't seen them for a year, so it was wonderful to be together again.
Scott's Parents clearing customs
After they arrived, we took them to our grocery store. We think they were a little overwhelmed by how much they couldn't recognize. They also picked Tyler up from preschool. Tyler was thrilled to see his grandparents, but he wouldn't say grandma and grandpa in Hebrew for his teachers.
The next day we let them recover a bit from jet lag.
On Friday, we went to Caesarea. It was fun to show them around the ruins. Tyler loved "driving" the chariot at the hippodrome.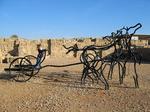 Tyler the chariot driver racing at the Caesarea Hippodrome
Here the guys are relaxing in the stadium seating of the hippodrome.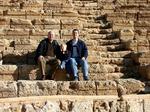 Tyler, Scott and Dad in the Hippodrome stands
We hadn't been to the Caesarea aqueduct yet, so it was fun to visit it . It is right next to the beach, so Tyler had lots of fun running around on the sand.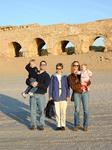 The Roman aqueduct at Caesarea
On Satuday we went to chuch. Mom and Dad were fortunate that we had visitors from Jerusalem so we had more people in attendance and we had a potluck after church. After church we drove along the Sea of Galilee. It was quite a cold and windy day, so we saw how choppy the sea can get. It was the first time we had seen it like that, and we were able to imagine what it would have been like for Jesus and his apostles to be out on the lake in a small boat during a storm.
Of course we took Mom and Dad to all the key sites: Tabgha (supposed site of the feeding of 4000), St. Peter's Primacy (where Christ told Peter to feed his sheep), Capernaum and the Mount of Beatitudes.
Sunday was Tiffany's birthday. We went shopping at the mall and had dinner at our favorite restaurant, Hashmura.
On Monday we went to the Baha'i gardens. Israel is the headquarters of the Baha'i religion. In Haifa, there are beautiful gardens and a shrine to one of their prophets. The garden was perfectly manicured. We descended over 500 steps from the midpoint of the gardens to the bottom. We didn't know that we weren't allowed to go back up the steps, so we visited the German Colony and then spent 30 minutes walking back uphill along the streets next to the gardens to where our car was parked.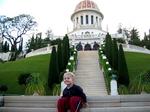 Tyler on one of the 500 steps to the Bahai shrine
On Wednesday we left on our vacaction within a vacation. On our way to Masada we stopped at a roadside stand and ate Bedouin pita filled with Lebaneh cheese, olive oil and Za'atar spice. It was delicious.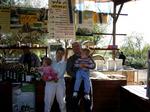 Roadside stand
We spent most of the day in Masada. Tyler's favorite part was the cable car that took us to the top. He couldn't stop talking about the cable car (later when we returned home, we built a cable car out of Legos to keep him happy). We saw more of Masada than we had seen in the past. It helped to be there on a warm winter day instead of a hot summer one. We were a little disappointed that most of Herod's palace is still closed for restoration.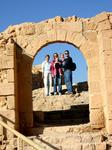 Arch at Masada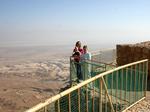 Masada and the Dead Sea
We stayed at our 5 star hotel right on the Dead Sea (5 star by Israeli standards, which is nice, but not what we would think of as 5 star). Our rooms had beautiful views of the Dead Sea. Did you know in Hebrew, the Dead Sea is called the Salt Lake? Hmmm, where else does the Jordan river flow into the Salt Lake?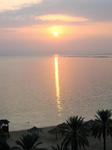 Sunrise over the Dead Sea
After a large Israeli breakfast we headed towards Jerusalem. We decided to stop at Qumran, which is the site of the discovery of the Dead Sea scrolls. It was fascinating to learn the history of the site and see the caves.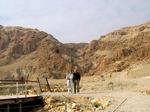 Qumran
We will cover Jerusalem and the rest of our trip in our next post.
Tyler-isms:
"Why are they lighting candles? Don't they know Hanukkah is over?" - In a Catholic church
"Umm, Umm, I want of of those" - Asking the waitress to bring him his own dessert after she gave one to us.
"Sound toothbrushes" - Grandma and Grandpa's are battery operated.
"We need to clean up all the rain and put it back in the sky so we can go to school." - Tyler loves going to school and didn't want to be slowed down by the rain.
"Daddy's parents" - Yes, but you can call them Grandma and Grandpa.

Posted by sjbowden at
9:26 PM