May 16, 2006
Bet She'an
Scott's work had another fun activity. It's so nice to have our friends, the Abbotts, here in Haifa, because their daughter Ali is a wonderful babysitter. She takes great care of the kids and they love it when she comes over. The party was held at the Ba Ya'ar Event Garden in Hadera, the same place where our friends Rivi and Efrat were married last year. We had lots of fun food, and then we listened to the Idan Raichel Project, a popular Israeli band. Tiffany was thrilled to have some cotton candy.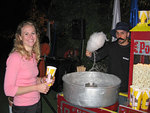 Cotton candy
On Friday we went to an archeological site that we have wanted to visit for a while, but hadn't gotten around to until now. The site is Bet She'an, also called Scythopolis in Greek, and was the capital of the Decapolis. The Decapolis was a group of ten cities which formed the easternmost part of the Roman Empire. It is a city with lots of history: Canaanite, Israelite, Egyptian, Greek, Roman and more.
The ruins are amazing. There is an impressive colonnaded street, called Palladius street. The colums were huge.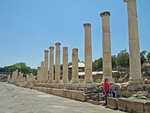 Palladius street
Here is the capital of a column that may have fallen during the earthquake of 749 AD. Brooke had fun climbing around it.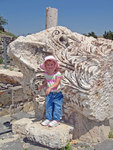 Corinthian capital
We hiked to the top of a nearby hill where there are additional Egyptian, Israelite and Canaanite ruins. We took this picture from a lookout point with a view of the rest of the site below.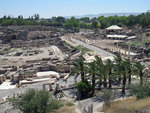 Bet She'an ruins
Bet She'an was a very interesting place. We saw a well preserved Roman Theater, two bathhouses and even a public lavatory. The expansive ruins make it easier to imagine how the city may have looked in its prime.
It was a hot day, so we had ice cream from the park gift shop before driving to the Swiss forest in Tiberias for a branch activity. Ritchie and Judy Whitehead, our service couple, brought a beanbag game that the kids loved.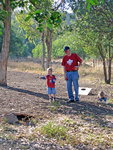 Beanbags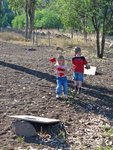 More beanbag games
The sunset from Swiss forest was beautiful. We were amazed at how clear the air was; it was so clear we could see Mount Hermon, the northernmost point in Israel.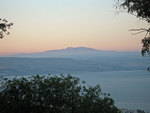 Mount Hermon
A few days after the branch activity we celebrated Lag B'Omer. We had the traditional bonfire at the park near our house with Brooke and Tyler's pre-school class. The kids mostly ate roasted marshmallows, but there were also hot dogs and kebabs. Brooke loves to swing and she even says what Israeli kids say as they swing, "nad ned."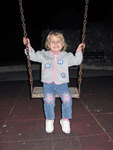 Nad ned
Tyler-isms:
"We have to wear hats so we don't burn our hair." - Why Tyler thinks he has to wear a hat when we are out in the sun.
"I'm all marshmallowy." - After eating marshmallows on Lag B'Omer.
Brooke-isms:
"Tyler pushed me." - Brooke's first real sentence; sad, but true.
"Happy!" - What she says when she gets what she wants.
Posted by sjbowden at
9:29 PM
May 6, 2006
Tyler turns 5
The day before Tyler's birthday, he had his birthday party at pre-school. Birthday parties are a big deal at his pre-school. He got to go up to the board and pull off the number 5 and hold it up in front of the class. Tyler also got to be "Abba shel Shabbat" which means father of the Sabbath. He chose one of the girls to come up front and be the mother. Then we all sang a song to welcome in the Sabbath. Tiffany got to light the Sabbath candles.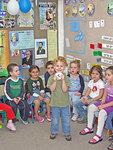 Tyler, age 5
Tyler sang a song (with the teachers' help) to his dad, mom and sister. The words are, "come, come, come my mom (with verses for my dad and my Brooke after) and give me a hug and a kiss." Tyler and Scott posed very well together after their verse.
Tyler's party
The whole class had fun doing the chicken dance and dancing around in circles.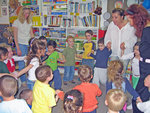 Dancing
Of course we also had a chocolate birthday cake complete with candles and sang happy birthday in Hebrew. In Israel they put an extra candle on the cake for the next year.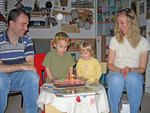 Birthday candles
Another fun tradition here in Israel is to lift up the birthday boy in a chair one more time than his age.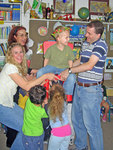 Israeli birthday tradition
Here are video clips from Tyler's birthday party.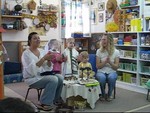 Birthday party (video)
As has become our tradition, we decorated Tyler's door. He's now in the habit of asking for it before his birthday every year. Tyler especially liked the parachute man Scott hung from his door frame.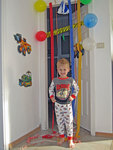 Decorated door
Once again, Tyler was spoiled with way too many presents.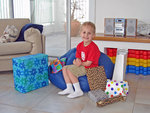 Birthday loot
Since we had a cake for Tyler's party at preschool, we decided to have our favorite birthday treat, surprise cupcakes. Tyler enjoyed the cupcakes, and we were glad that he enjoyed his whole birthday weekend.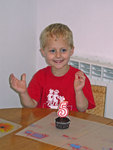 Tiny birthday cake
Tyler-isms:
"People are loving me since it's almost my birthday" - Tyler enjoyed getting mail and extra attention.
"Unhold my arm" - After Scott caught Tyler and prevented him from running away.
"Does mommy know more than you?" - After Scott couldn't answer one of Tyler's many questions.
Brooke-isms:
"Mamo" - Tomorrow.
"My all gone" - When she finished her bowl of Cheerios.
"Boka Toes" - Brooke tried to say "Boker Tov" which means good morning in Hebrew.
Posted by sjbowden at
8:43 PM
May 2, 2006
Brooke's first day of pre-school
On the last Sabbath in April, we were excited to have Jon and Kimberly Moody visit the Galilee branch. Jon and Kimberly were in the same ward with us at BYU. Jon also served in the same mission as Scott. They were in Israel visiting Jon's parents who are serving at the BYU Jerusalem Center. It was fun to catch up with them.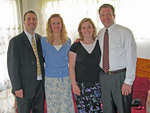 Bowdens and Moodys
We finally let the teachers at Tyler's pre-school convince us to let Brooke go to school for our last few months here. Tiffany went with Brooke in the morning thinking she might need to stay a while to make sure Brooke was happy. However, Brooke said goodbye and went off without another thought. Tiffany left our camera with the teachers so we could have pictures of Brooke's first day.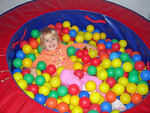 Brooke in the balls
Brooke was in heaven with all the toys to play with. Tyler was a good big brother and showed her around and watched out for her.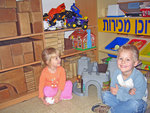 Toy area
It was easy for Brooke to go to pre-school because she already knew the teachers. They said they had been waiting for this day since Tyler started preschool.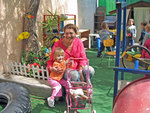 Brooke and Annetta
Brooke had lots of fun playing with all of the "girl" toys at school. She loved the doll house, play kitchen and dress up corner. The girls at school love having her there too. The teachers said Brooke is like their very own doll and the girls take good care of her.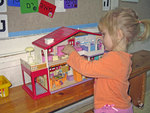 Dollhouse
The same day Brooke started pre-school, Scott had a team building activity with his work group. They first went on a hike at Ein Tina (Tina Spring). The hike involved wading through a stream and then climbing up a waterfall. The setting was beautiful.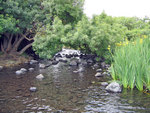 Ein Tina
After the hike, Scott and his group drove ATVs at Ramot Naphtali. Scott had fun driving through the orchards and fields of the kibbutz. They also drove to the top of a nearby hill, where they had a view of Hula valley and much of the Golan Heights.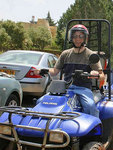 Tractoron - Hebrew for ATV
Our apartment complex decorated in preparation for Independence day. Tyler was excited to see all the flags.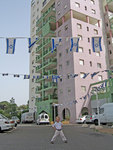 Independence day decoration
Every year for Independence day, the kids get a T-shirt from pre-school. The teachers were thoughtful enough to plan ahead so that Brooke would have one. They really enjoyed wearing their shirts and crowns and waving their flags.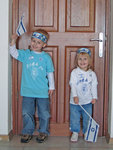 Independence day dressup
We invited the Abbotts over on Independence day for a barbeque and to watch the fireworks from our balcony.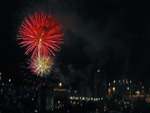 Independence day fireworks
Tyler-isms:
"Can I be a fireman instead of going to work?" - Tyler wants to be a fireman when he grows up.
"You should have said three goodbyes." - He was unhappy that Scott had to leave for work before the kids were up and only Tiffany got to say goodbye.
"Do you think I haven't been in the sky?" - When Tiffany said that she heard a jet.
"Can you wrap up my teeth?" - Tyler's teeth were chattering while watching fireworks and he wanted to be wrapped in a blanket.

Brooke-isms:
"Umm... umm... play" - When asked what she did at pre-school.

Posted by sjbowden at
8:07 PM