Visit from President and Sister Frogley
President and Sister Frogley were up in Oregon to visit their son and his family. They attended church in my brother's ward. He called to let me know and I was able to call President Frogley and invite him over.
We had already invited our friends, the Beutlers, for dinner. Russ served in the same mission I did, under President Frogley. Russ and his family just returned from three years in Switzerland with Intel. Our children all had fun playing together.
After dinner the Frogleys came over. We spent about an hour chatting and catching up with them. It was a wonderful evening.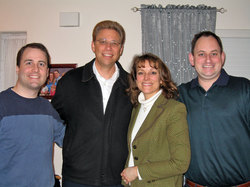 Scott, President Frogley, Sister Frogley and Russ
Posted by sjbowden at February 3, 2008 10:38 PM