Excerpts from February 7th E-mail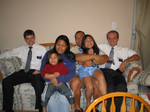 With Hifo Family
Right now I am teaching two solid investigators. One is Mickey Villarruel, she's 75, and she's a 24 karat investigator. She has a date for March 6th to be baptized, and I am very excited since it will be my first baptism. I won't actually be baptizing her, but I am still very excited. The reason she decided to take the lessons was because of how it has changed her family's life, starting with her daughter. She wanted to have the same blessings she could see they were enjoying everyday. The other investigator is a lady named Rhonda. She is probably in her late 30's, and has four children, and she wants her family to be as happy as her friend Sister Elliot's family. So she is excited to learn about the Church, and accepts everything we teach her on faith, but hasn't read and prayed about the Book of Mormon, so she is caught up on the fact that Joseph Smith is a Prophet, and saw Heavenly Father and Jesus Christ. But, she has expressed a desire and hope that the Gospel is true, so if she really does hope for that, she will get an answer when she prays. Besides that we have a lot of non-progressing investigators, one of which comes to Church 90% of the time even.
This last week has been interesting. Transfers shook everything up, and I have had to start to hold myself accountable for a lot more things. I am doing my best to rely on the Spirit for so many more things, but it's hard to find time to fit in everything I'm supposed to do in the day. Planning is a major part of that, but sticking to the plan is what I find hard. I am getting better at it, but still fall short in many instances.
My new companion is Elder Holstein, and he is from St. Louis, Missouri.
He's a convert and has been out for 16 months. We are getting along fine, it's just the usual process of getting to know each other. Our apartment is one of the oldest missionary apartments in the mission. We share it with the Zone Leader, Elder Bruening (who is a die hard Ute fan) and his companion, Elder Boden. That's right, Elder Boden. And he pronounces it the way that everyone pronounces our name incorrectly. It gets very confusing, especially when people from our ward call.
We actually do a lot of tracting, because we do not have a big enough teaching pool to be teaching all the time, which I'm sure is very common.

Posted by jim at
10:23 AM