A regular week
No big travels again this week. It has been good to stay home and finish some things around the apartment.
Tiffany made strawberry freezer jam on Friday. We bought the strawberries from a roadside stand. It sure tastes good.
Scott took Tyler out for a walk so that Tiffany could focus on the freezer jam. We saw a garbage truck, a milk truck and walked down green stairs.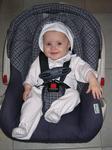 Brooke at 6 months, wearing the same outfit she came home from the hospital in. It fits a lot better now.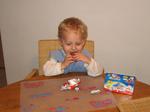 Tyler discovered a great treat, Kinder-Eggs. They are chocolate eggs with a toy inside.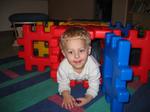 Quintessential Tyler - note the chocolate around his mouth and the toy cars clenched in his fist.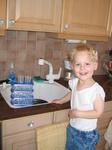 Tyler is convinced he is helping his mommy wash the dishes.
Tyler-isms:
"Mommy, be a doggy like I'm" - Ain't it good grammar?
"All that kind of stuff" - Meaning all his bedtime stuff (blankets, bears, etc.)
"Mommy, I'm sorry I was crying; I don't know why I was sad." - sweet apology
"Mommy, Daddy keeps going to work." - Yes, we wish he didn't have to.
"Covered" - Cupboard
"I want the car that goes back and forth" - Said while walking back and forth.
"Does that make sense?" - We hear this a lot.
"Short sleeve pants" - Shorts

Posted by sjbowden at
10:04 PM