Settling In
We are feeling more settled in our apartment. We have a routine now (Scott goes to work; Tiffany, Tyler and Brooke stay home). We will feel even more settled when our stuff arrives, hopefully this week. It passed customs inspection on Thursday. Every day Tyler looks out the window for the moving van.
Tiffany and Scott have also been taking Hebrew lessons. It has been a challenge just to get through the alphabet, but we are starting to understand a few words here and there. Tyler said, "woof," when the Hebrew teacher taught Tiffany the word, "dag," which means fish. We learned the word, "bouba," which means doll, early on because that is what everyone calls Brooke when we go out.

Panoramic picture of our apartment. Click and drag to move around.
Click here if the above link doesn't work.
This week Tiffany and Scott celebrated their sixth wedding anniversary. We all went to a French restaurant called Hashmura-1872. The food was excellent. We had goat cheese puff pastries, peppercorn steak, and of course we finished the meal with creme brulee. Tyler and Brooke behaved very well, so it even felt a little like a date. Maybe by next year we will have found a babysitter.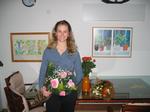 Happy Anniversary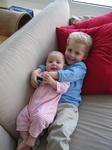 Pink and Blue
In the picture below, you will see a pomelo. It is one of our favorite fruits. It is supposedly the ancestor of the grapefruit. To eat one, you have to peel the thick but soft rind, and then pull the fruit off the membrane. It seems almost dry compared to a grapefruit and is tangy and sweet.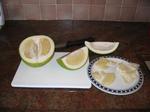 A pomelo - one of our favorite fruits
On Friday, our "Saturday," we took Tyler to a big park next to the zoo. Tyler was a little nervous at first around the playground equipment, but warmed up to the slides. That night, we went to dinner at Scott's manager's house. He has two boys, one about Tyler's age. Dinner was very good and Tyler loved all their toys. Ever since, Tyler has been asking to go back. He just wants to play with the toys; he could care less about the boy his age.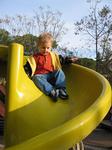 Tyler at the park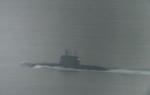 A submarine through the telescope

Posted by sjbowden at
8:12 PM