Birthday Party
The highlight of this week, or at least the highlight for Tyler, was his birthday party. We spent the weekend grocery shopping, cleaning, baking a cake and cupcakes and then cleaning up. We invited some of Scott's co-workers from Haifa and their families. Tyler was thrilled that people were bringing him presents. He impressed them by saying, "Thank you for my presents."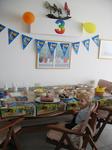 Party preparations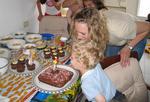 Blowing out candles
Brooke is as cute as ever. She smiles a lot, and she loves moving her hands around. She wins everyone over with her cute waving.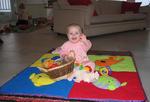 Cute wave
Tyler finally used his potty stool this week. There was only one small problem, he had moved the stool from the toilet to the couch. Fortunately, he missed the couch, and we are very thankful that tile floors are so easy to clean. Maybe next time.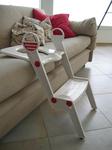 Location, location, location
Scott had an Intel group activity Sunday afternoon. It was great to have the afternoon off from work to go hiking. The weather was perfect and the scenery was beautiful. At the end of the trail they had a delicious dinner on picnic tables with tablecloths, real plates and silverware.
Brooke is getting more and more interested in her brother's toys. Tyler shares pretty well, he just doesn't love it that Brooke puts everything in her mouth. It's fun to have everyone playing together.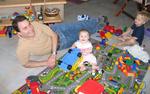 Playing together
Tyler-isms:
"His cough won't go gone so the doctor has to put it away." - Scott had a cough that wouldn't go away, so he went to the doctor.
"Please roll my foots, they came untied." - Tyler's favorite pajamas are too big, so we have to roll up the pant legs.
"I'm enjoying this butter." - Tyler was eating goat cheese with a spoon.
"For a long day" - For a long time.
"It cost 3 shekels." - Tyler thinks everything costs exactly 3 shekels (about $0.65).
"The doctor says ..." - Tyler's excuse for everything, as in, "The doctor says it isn't bedtime yet."
"It's too bright, let's turn the sun." - On our sunny Sabbath morning drive to Church.
"The water's going home." - Watching the bathtub water go down the drain.
Posted by sjbowden at
9:45 PM
Happy Birthday Tyler; A tooth for Brooke
This week we celebrated Tyler's third birthday. He was very excited and loved every minute of it. When asked, though, he still says he is almost three. You can even ask him to answer how old he is in Hebrew. Most of the time he says it right.
When we asked him where he wanted to go for his birthday dinner he said the mall. So we ate in the food court of the mall. The highlight of the mall trip was getting a bouncy ball from a vending machine.
After Tyler went to sleep the night before his birthday, we decorated his doorway.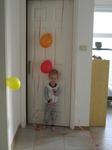 I see my birthday
Tyler loved opening his presents. He is much better at ripping the paper off than he was last year.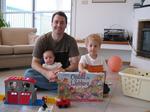 Tyler's loot
Brooke is growing up. She can't really stand up yet, but she posed really well for her picture. She can stay sitting up without falling over and is starting to get interested in her brother's toys. She also loves playing with water bottles and cell phones.
Brooke also got her first tooth this week. Sorry we couldn't get a picture of the tooth.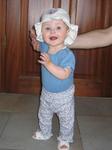 Brooke all spiffed up
We bought Tyler a stool to help with potty training. He was thrilled to sit on it and immediately asked for a mazgeen. He wasn't interested in using the toilet for other than a reading chair.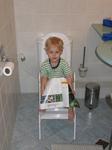 Not yet trained
We had a picnic for our monthly branch activity. We ate traditional Israeli picnic food, sausage and kebabs on the barbeque with a variety of salads. Tyler had fun on the playground equipment, so much so that he didn't want to eat.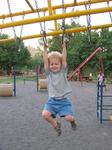 Tyler hanging around
Tyler-isms:
"Take good care of Brooke. Don't let her cry." - Giving instructions to his Mom.
"Yes it isn't" - No, it is.
"Flamly room" - Family room
"Rockering" - Rocking in the rocking chair
"What's up with you" - Asking how his Dad's day at work was.
"I see my birthday" - When he woke up and saw his balloons.
"Cha-la-kit" - Chocolate
"My ears hurt when you talk too much" - To his mother.
"How many times do I have to ask you not to change my diaper" - Enough said
"The duck won't get me because of this glass" - Tyler was relieved that the sliding glass door separated him from the pigeon.
Posted by sjbowden at
9:02 PM
Jordan and The Med, The Red and The Dead (Seas)
This update is a little late and a little long. We were on vacation! Scott got a couple days off for Israel's independance day, so we took our first big trip.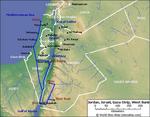 What a trip! The blue line shows our route
You will notice from the above picture that we had quite a trip. We drove 1006 km (about 625 miles) and that was just in Israel. We were on a bus for the parts in Jordan. We started out in Haifa (on the Mediterranean) on Friday and drove to Eilat (on the Red Sea). We walked on the beach, ate at a fun Japanese restaurant and spent the night in a hotel. In the morning we met the friends we were traveling with, the Alsop family from Portland and the Browne family from Idaho Falls. The Alsops are here with Intel and the Browne's are here for medical school. After breakfast we headed to the border and crossed into Jordan. We didn't know that it cost 71 shekels a person to leave Israel, but other than that the crossing was uneventful.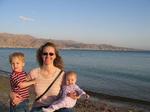 The Red Sea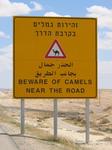 You don't see a sign like this everyday.
As we had 16 people in our group, the travel agency had arranged for a bus to pick us up at the border. We rode on the bus for two hours to our hotel in Wadi Mousa/New Petra. After some lunch, we went to the old city of Petra. Petra is most famous for the building carved into the rock that was in Indiana Jones and the Last Crusade. It was roughly a one and a half mile hike through a narrow canyon, called the Siq, to get into Petra. Petra was the center of the Nabatean culture. The Nabateans interacted with the Greeks, the Romans and many of the tribes and cultures of the Middle East. Petra was a stopping point on many trading routes, including the Silk Road.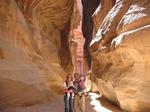 The canyon leading into Petra.
At the end of the Siq, we were rewarded with an amazing sight, the Treasury of Petra. There are just a couple of empty square rooms inside the Treasury, nothing like in Indiana Jones. It is just mind-boggling how they were able to carve so much into the mountains.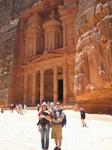 The Treasury building of Petra
In the picture below you will note Tyler's primary mode of transportation. His legs didn't even get a chance to get tired because he only wanted to ride on Scott's shoulders.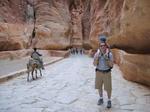 Two packhorses
After a very tiring day, we returned to the city of New Petra and ate at a traditional Middle Eastern restaurant. We then went to the hotel and collapsed into bed. We barely made a dent in all there was to see in Petra on the first day, so we were happy that we had another day to spend there.
We decided that if we wanted to see more of Petra, we would have to move faster. So we decided to rent a couple of camels. At first Tyler was convinced that the camel was going to eat him and he fussed so much that it started to bother the camel. Once we got going though, Tyler enjoyed the ride.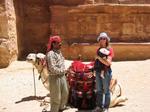 Tiffany and Brooke about to climb on their camel.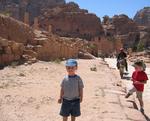 Tyler on a Petra city street. If you look carefully you can see a mountain in the background shaped like a camel.
Petra is called the Rose Red city because all of the buildings are carved into the side of mountains that are an amazing red color. Petra goes on and on through the mountains for miles. We didn't see all of it, but did catch most of the highlights. We even ate lunch in a cave that was an ancient Nabatean home.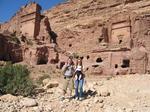 The Rose Red City
We left Petra the second day again very tired. We ate some more Middle Eastern food and bought some delicious baklava for dessert.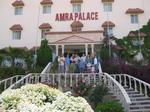 Here is our group at the Hotel in New Petra.
On our third day in Jordan, we took a jeep tour of Wadi Rum. Wadi means valley and it is an enormous desert valley.
We even had the added experience of a flat tire in the middle of the desert. Fortunately our drivers were well experienced at changing tires in the desert sand.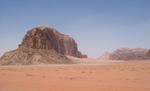 Wadi Rum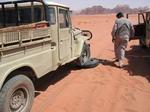 Our jeep with a flat tire.
After the jeep tour, we crossed back into Israel and drove to the Dead Sea. There we stayed in a hotel that was luxurious by comparison to the the other hotels we stayed in. After a good night's rest we floated in the Dead Sea, played in the hotel's pool and then drove home.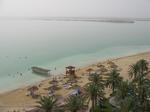 The Dead Sea as seen from our hotel room.
Tyler-isms:
"The animal's going to get me." - Tyler was convinced that the camels, the horses and the donkeys were all out to get him.
"I want to ride a camel later." - translation: I never want to ride a camel again.
"The camels go home at night and play cars." - without hands!
"Their mommies hold them." - When we saw baby camels.
"That camel has rocks coming out its bottom." - hmmm.
"I want somepin else." - As usual he doesn't want what we are eating for dinner.
"Mazgeen" - magazine
"My tummy hurts, I have to go lay down." - Tiffany said this once, Tyler hundreds of times.

Posted by sjbowden at
8:51 PM