What are we going to do? She can move!
No big travels this week. We used the weekend for a well deserved rest. Tyler has been getting us up very early and we were up late talking to Tiffany's family about our new niece, Lexi Shipley.
Brooke moved off her playmat this week. She was apparently headed for Tyler's road carpet. She doesn't move very fast, but it won't be long before she will. We are afraid that Tyler won't take kindly to Brooke playing with his toys.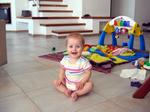 She is mobile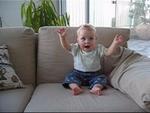 Brooke clapping (video, may take some time to download)
Don't they both look big? Brooke can sit up by herself now. It is surprising to go get her out of her crib and find her sitting up waiting for us.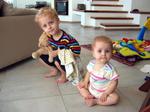 Big like you
Brooke turned 9 months old this week.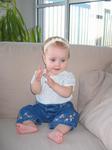 Nine months old
It's fun to watch Tyler play with his bear again. Tyler feeds his bear breakfast, changes his diaper and puts him in bed for a nap. It is especially funny to hear Tyler talk to his bear the same way we talk to him. The bear has even had a couple of time-outs. Hmmm, I wonder where Tyler got that idea.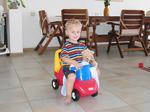 Taking the bear for a ride
Tyler has two modes of play: organized and chaotic. We prefer the first, but the second is much more common. Tiffany loves it when he lines up his toys. There's plenty of chaos in the background though.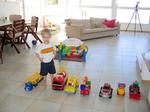 The line-up
Tyler-isms:
"Someone was knocking on my window." - Explaining why he got out of bed during a nap. Remember, we live on the 14th floor.
"What happened to your forehead?" - Tiffany raised her eyebrows at Tyler.
"The stair likes to fall me." - Translation - I sometimes trip on the bottom step.
"I want my girls to come upstairs." - How Tyler talks to his mother and sister.
"It's little for me." - Explaining why he needed to eat Tiffany's half-eaten ice cream cone.
"Eating the leaves on the trees." - Eating broccoli.
"Vehicle" - How he refers to cars. Very proper.
Posted by sjbowden at
10:13 PM