Catch-up
This past weekend we went to Herziliya, near Tel Aviv. We went out to dinner with our friends, James and Heidi, while a babysitter watched their children and ours. It was great to go out on a date. In preparation, Tyler and Scott got haircuts courtesy of Tiffany.
We recently got some more pictures of us in Petra from our friends. We thought it would be fun to have proof that we rode on camels.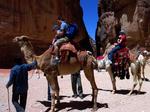 Riding camels in Petra.
In the picture below, Brooke was supposed to be standing unassisted. Unfortunately, by the time we got the camera and turned it on, she had fallen down. It is still a cute picture, but you will have to take our word that she was standing up.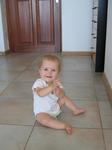 Brooke after standing up.
Joy Boy is a puppet that Tiffany uses when she has Joy School with Tyler. Tyler loves Joy Boy. Below Joy Boy is helping Tyler with some puzzles.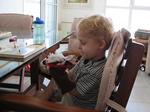 Joy Boy doing puzzles
Here is Tyler's school picture. We took this picture to put on his drawer at school. His drawer is where they keep his diapers and where they put his artwork for us to take home.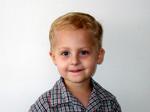 Tyler's preschool picture
Tyler is already picking up Hebrew from school. One morning, our building maintenance man asked him (in Hebrew) if he was heading to school and Tyler responded in Hebrew! This was a surprise to us. When we ask Tyler what he did in school, he replies, "I don't know."
Brooke enjoys playing with Tyler's toys. Now that he goes to school in the mornings, she can play with them without the screaming in the background, "She's getting my toys!"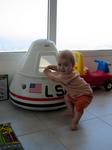 Brooke finding Tyler's stash of Matchbox cars.
Scott has been carpooling with Aaron Nielsen, an Intel relocatee from Oregon. That lets his wife Sarah and their daughter Arwen hang out with Tiffany, Tyler and Brooke. Arwen is 18 months old and loves to play with Tyler. She cries everytime she has to leave. The Nielsens will leave Haifa in September so that their new baby can be born in America.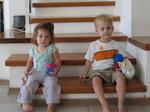 Arwen and Tyler
We also went out to dinner with the Nielsens this week, but we chose a bad night to do it. Most of the restaurants were closed, but we finally found one that was open. A little while later the police showed up and told the restaurant to close. We finished eating just as the police showed up again to make sure that the restaurant closed. Turns out there is a law that on that particular day that all forms of entertainment must be closed in remembrance of the Roman destruction of the temple in Jerusalem. Oops. Next year we'll just stay home.
Scott's group took a morning off of work to have a team building activity. They went bowling. Scott won both games, with scores of 138 and 123. He surprised all of his coworkers and received a toolbox as a prize.
Tyler-isms:
"Family Home Evening room" - The family room.
"It turned on." - Glow in the dark car
"You're talking too loud, I can't hear my music." - to Scott and Tiffany.
"My big people have grandmas." - Making the connection that our mothers are his grandmas.
"Are they going to church with us?" - about the cars pulling jet skis.
"Where is our jet ski? Where is our trailer hitch?" - same as above.
"They are such a good size to take to school." - Matchbox cars.
"I'm the fronter man." - Tyler has to be the first one up the stairs.
"But she's not a baby!" - Tyler was confused that Yaron could have an older sister and not a baby sister like Brooke.
Posted by sjbowden at
9:20 AM