Switzerland, Part II (Lucerne and Geneva)
On Monday, we went to Lucerne with Tiffany's parents and nieces, Amy and Taylor. We went by train, which thrilled Tyler.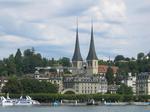 A view of Lucerne
Once in Lucerne, we bought pretzels and bratwurst for lunch. We then took a boat on Lake Lucerne to Burgenstock. The boat ride was beautiful and also thrilled Tyler. Once we got to the base of Burgenstock, we rode a very steep funicular to the top of one of the hills surrounding the lake. This was yet another thrill for Tyler. At the top there are beautiful views and several luxury hotels.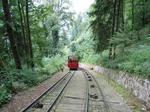 On the oldest electrically powered funicular in Switzerland
We walked around enjoying the scenery, ate ice cream and then took the funicular back down and took the boat back to Lucerne. Tyler impressed several American tourists by telling them that he was from Israel.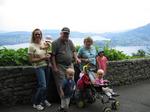 A view of Lake Lucerne from Burgenstock
The most famous site in Lucerne is a long, diagonal wooden bridge dating from the 14th century, but rebuilt in 1993 after a fire nearly destroyed it. Before heading back to Basel, we enjoyed authentic Italian pizza.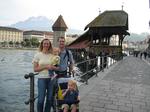 The famous wooden bridge of Lucerne
On Tuesday, we went with Rob to grocery shop in St. Louis, which is right over the French border from Basel. Scott and Tiffany enjoyed being back in France yet again. That afternoon, Linda and the girls took us on a tour of downtown Basel. We saw a man blowing an alpine horn in front of the historic Basel guild house.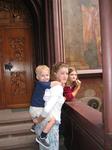 Tyler, Aviann and Allyson at the Basel guild house
We also saw an amazing mechanical water sculpture. Tyler was absolutely entranced and we practically had to drag him away.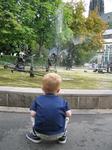 Mechanical water sculpture in Basel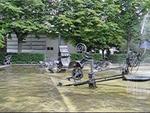 Video of the water sculpture
The next big step in our Switzerland trip was meeting up with the Beutlers in Geneva. The Beutlers used to live near us in Hillsboro. We relocated to Israel and they relocated to Geneva, Switzerland. Scott is a little envious, but there are no Intel engineering jobs in Switzerland.
We had a beautiful drive from Basel to Geneva and found the Beutler's apartment very easily. They took us on a tour of Geneva. We walked along the edge of Lake Geneva (Lac Leman for you francophiles) and took a water bus across the lake. We ate doner kebabs, a meal that we loved eating in France. Lisa also took us to the best ice cream shop in Geneva. For dinner, we ate a park near their home, that has a burger/crepe/omelette stand next to it. The grown-ups ate and the children played. It was a perfect way to eat out with children.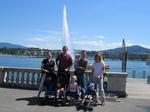 With our friends the Beutlers in Geneva
The next day we went to the Natural History Museum of Geneva. Tyler loved running around seeing the animals and the fluorescent rocks. We ate lunch in the cafeteria. In Europe, even cafeteria food is good. We had cordon bleu, fries and French bread.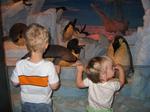 Tyler and Elodie at the Swiss Natural History Museum
After the museum, we wandered around Geneva some more. Madeleine was excited to ride on a carousel, so we were glad that Tyler had overcome his fear of carousels so that he could ride with her. Elodie enjoyed the ride as well, but we didn't give Brooke a chance to try it out.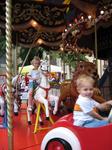 Tyler and Madeleine on a carousel
The culminating event of our time with the Beutlers was a marvelous meal of fondue bourguignonne. It was fun to spend time with our friends from Portland. We enjoyed it so much that we hope to make a trip next year.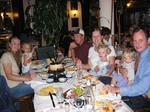 Fondue bourguignonne.
We will wrap up the summary of our trip to Switzerland with part III in a few days.
Tyler-isms:
"I need you to hold me because there are so many bicycles." - Sure.
"That car, is its eyes closed?" - About a car with pop-up headlights.
"It's a busy street with busy cars and busy peoples." - Why he had to be careful.
"Maybe we can just close me up and lock me." - Wanting his coat pulled over his head and zipped so he wouldn't get wet in the rain.
Posted by sjbowden at
5:33 PM