Easter in Israel
On the Friday before Easter, there was an Easter activity for the kids at church. We went to Tiberias and helped with the Primary activity. The kids colored eggs, watched the Charlie Brown Easter video, had an Easter egg hunt and ate treats.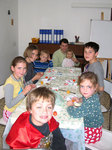 The Primary coloring Easter eggs
Tyler was very intrigued by the Easter egg coloring. He wanted to dip the eggs in all of the colors.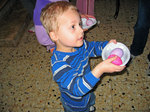 Tyler's Easter eggs
For a treat, the kids all got Kinder-eggs. Brooke was thrilled that she got one too.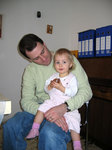 Yummy chocolate egg
Here is a picture of us after church on the Sabbath. Brooke wore her dress from Jeff and Augusta's wedding and Tyler wore some of his new clothes. If only the kids would look at the camera.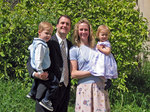 Easter Sabbath family picture
On the way home from church we stopped at a scenic lookout to take more pictures. Brooke and Tyler picked flowers and had lots of fun playing with them.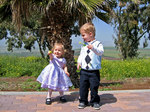 Dressed up for Easter
We thought Brooke would look especially pretty in the middle of some purple flowers. She had other ideas...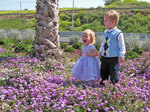 Get me out of here
Brooke's grandma Sherrie sent Brooke a set of plastic dishes. She is in heaven. She sets them all out, with a spoon in each bowl and sometimes she even pretends to eat.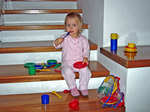 Brooke and her new dishes
For Family Home Evening on Sunday, we decided to have a special Easter message and then color Easter eggs.
Coloring Easter Eggs
After coloring Easter eggs, Brooke and Tyler looked for where the Easter bunny hid their Easter baskets. Tyler was very disappointed that he didn't get to see the Easter Bunny. He asked us over and over again how the Easter bunny got in our house without us seeing him.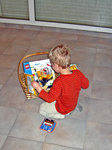 Tyler's Easter basket
Brooke was absolutely entranced by her basket. She loves her Little People minivan.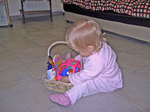 Brooke's Easter basket
Tyler-isms:
"Cold feet" - bare feet.
"Shuter Pan" - parachute man.
"Glows in the night" - Glow-in-the-dark.
Brooke-isms:
"Ba" - What Brooke calls herself.
Posted by sjbowden at
9:44 PM
Purim
Once we recovered a bit from our busy trip to the States, we jumped back into life in Israel.
Here are Brooke and Tyler in their cute Sunday clothes.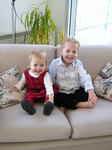 Looking good
Our next big event was Purim. The book of Esther in the Bible describes how Haman, an advisor to the king of Persia, plotted to kill the Jews. Esther, the Jewish wife of the king, intervened and saved her people. The Jews celebrate Purim to commemorate the event.
Purim is a really fun holiday. The children dress up in costumes. Everyone exchanges goodie baskets and eats Haman's ears (a kind of cookie). The children all get noisemakers. The tradition is to read the story of Esther and boo and make noise whenever Haman's name is mentioned.
Here Tyler is wearing face paint from one of the Purim activities at the gan (his pre-school). They also decorated and wore masks.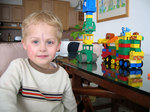 Tyler and his Lego creations

On the last school day before Purim, Tyler wore his Thomas the Tank Engine costume. We also sent him with a basket of treats.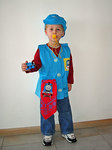 Tyler in his Purim costume
Since Purim is in honor of Queen Esther, most of the girls dress up as princesses.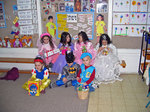 Purim at the gan (preschool)
Brooke also wanted to wear a costume, so she put on Tyler's costume by herself when Tyler wasn't looking.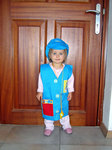 Brooke in Tyler's costume
That night, there was a big work party for Purim. We were brave and got a babysitter that came highly recommended by a friend. We put Brooke to bed and gave instructions to put Tyler to bed in half an hour. Then, we drove to a place near Tel Aviv for the party. The place, called Ronit Farms, is a popular place for weddings. The party theme was Moulin Rouge. We ate dinner and watched circus performers. Dana International, a popular singer, also performed. Dana International is famous for winning the Euro-Vision talent competition several years ago. She is also infamous because she used to be a guy.
When we got home from the party, Brooke was awake. The babysitter said that Brooke had cried and so she had gotten her up. Then she said that Brooke didn't want to go to bed, so she didn't make her.
We also noticed that there were lots of chocolate wrappers on the kitchen table. Tyler had convinced the babysitter that it was OK for him to eat all of the Kinder-eggs and other treats from his Purim goodie basket. The babysitter just told us that she thought that was too much chocolate for a little boy. We thought babysitter was good, but a little more lenient than we would have liked.
When Scott got to work the next day, they were giving out costume accessories in the lobby like funny bow ties and feather boas. Scott and his co-workers also had a treat plate exchange.
Tyler-isms:
"When the moon is out it's night-time and when the sun is out it's light time." - Such profound words while up in the middle of the night recovering from jet lag.
"Why is this not a hotel?" - Confused why we stopped hotel hopping after our trip.
"It's a little dinosaur" - When questioned on how the dinosaur that woke him up at night could fit under the bed.
Brooke-isms:
"Cuckoo" - In Israel, they say cuckoo instead of peek-a-boo. She is very good at saying it and loves to cover her eyes.

Posted by sjbowden at
10:22 PM
Our trip to the USA
What a whirlwind trip to the United States we had! You can tell it was a good trip because it has taken us over a month to write about it :) Eight airplane flights and four states in two and a half weeks.
Before our trip, we ordered many things (clothes and toys) over the internet and had them sent to Tiffany's parents' house. We ordered so much stuff that we ordered a suitcase and had that sent too! We also packed our small suitcases into our large suitcases so that we would have more room for the way home. Tiffany's friend Jacki also let us borrow a suitcase since we bought more stuff in Oregon than we had planned.
We started our trip on Wednesday, February 23rd at night. We drove down to Herzliya and met our friends for dinner at a mall there. Then they drove us to the airport. Of course we got to the airport extra early because we are paranoid. It was fun to see the new airport terminal. The old terminal was from the 1950's and was not big enough to accommodate all of the people and flights everyday. The new terminal was part of the Ben Gurion 2000 project, so it was only 4 years late.
The centerpiece of the terminal is the enormous fountain in the center. It cycles from a light drizzle to a torrential downpour over about 15 minutes. We had fun wandering through the duty free shops, which are a big deal here. We also ate chocolate croissants and drank fruit smoothies to pass the time.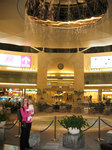 The fountain in the new airport terminal
Brooke and Tyler did really well on the flight to the States. Tyler slept most of the way to Newark. Brooke didn't sleep as well, but she didn't fuss too much. Changing planes in Newark was much less painful than the last time we flew through Newark, so we were very happy. We also enjoyed Krispy Kreme doughnuts while we were waiting for our next flight.
In the Salt Lake airport we were carrying our coats in a plastic bag from an Israeli store called Shilav and a couple came up to us and asked where we had gotten the bag. They live in Haifa and were in Salt Lake City to go skiing. The husband is a professor at the Technion, the engineering university in Haifa. It is pretty amazing that we traveled almost halfway around the world and ran into a family from Haifa.
Tiffany's parents met us at the Salt Lake City airport with Tawni and her daughter, Lexi, whom we finally got to meet. Tiffany's parents let us to Kentucky Fried Chicken on the way home from the airport. Mmmm - fried chicken and A&W root beer.
The day after we got to Tiffany's parents house Scott had an appointment for a health checkup to get more life insurance. The life insurance company had called us in Israel to setup an appointment and said they would send a nurse to our house. However, for some reason they didn't want to send the nurse to Israel. Tiffany got a haircut the same day and we relaxed and recovered from our long trip.
We drove down to Lehi, where Tiffany's brother Jeff and his wife, Share, live. We ate at Los Hermanos and saw their new house.
The next day, Saturday, we broke Tiffany's mom's heart and flew to Portland. Tiffany's friend Jacki met us at the airport and took Tiffany and the kids to go shopping, leaving Scott to deal with the rental car and checking into the hotel. Scott bought Cadbury Creme eggs and other Easter candy and then rested until Jacki brought Tiffany to the hotel.
Jacki took Brooke and Tyler home to let them sleep, and Tiffany and Scott went shopping and met our friends Gene and Erin for dinner at Macaroni Grill. It was fun to see them and their 15 month old son Ryan. Thanks to Jacki, it was also the first quiet dinner we had had in a long, long time.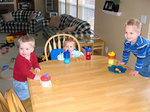 At Jacki's house
On Sunday it was fun to go to church in our old ward. It was nice to see many of our friends. After church, we met up with Gene and Erin again and then visited more friends, the Wolfer's and the Burton's. We also got to see Jeff and Augusta and their new home. It was nice to spend some time with them before their wedding.
On Monday, Scott went to work. Tiffany went shopping and had lunch with several of her friends at The Old Spaghetti Factory. That night we went to dinner at Red Robin with our friends, the Wood's.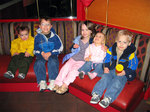 Hanging out with the Wood's
We returned to Salt Lake City on Tuesday. On Wednesday, we ate dinner at Rock Creek Pizza with Tiffany's dad and grandma (Tyler and Brooke's Grandma Great).
On Thursday we broke Tiffany's mom's heart again by flying to Phoenix, Arizona. We met up with Scott's parents and almost all of his family at the Salt Lake airport, except Timothy (on his mission) and Jeff (already in Arizona). We had a group reservation for the flight. We were quite the sight with lots of carseats, strollers and little kids. We checked into our hotel and then went in search of Mexican food. After lots of driving around, we finally found some good Mexican food.
The next day we drove to Show Low, Arizona, about 4 hours away from Phoenix. The town of Show Low was lost in a game of Show Low poker in the 1800's. Jeff's fiancee's (now wife's) family lives in a suburb of Show Low, named Wagonwheel.
Tiffany went to Augusta's bridal luncheon with Cami, Julie and Scott's mom while the guys ate at Wendy's and wandered around Wal-Mart.
As you can see below, Tyler loved playing on Augusta's family's playground equipment. That evening we all went to the church to decorate for the reception.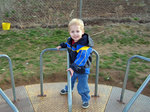 Tyler playing outside of Augusta's house
On Saturday morning, we drove to Snowflake, Arizona for the wedding ceremony. The Snowflake temple is one of the new smaller temples. The ceremony was beautiful. We were really glad that we were able to be there for their wedding.
Here are all of the Bowden's that were there, as well as some friends.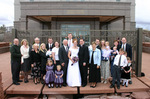 With Bowden Family and Friends - outside the temple
The sky clouded over as we were finishing the pictures. We were relieved that the weather was so nice, especially because we woke up to snow that morning.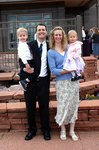 Scott, Tiffany and Family
Brooke was very cute at the reception. Here she is levitating to be in the picture with Augusta and her nieces. She wouldn't stand up front so Tiffany held her up from behind.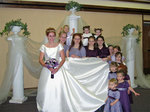 The bride and her nieces
Brooke loved looking at Augusta in her wedding dress. Brooke loved her own dress too; she kept patting the fluffy skirt of her dress. Tyler and Brooke were both very good and very cute the whole evening. All of the kids loved the candy table at the reception.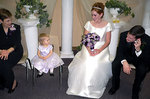 Brooke admiring the bride
On Sunday we returned to Phoenix. We visited Scott's Aunt Janice and Uncle Von and then had dinner with his Uncle Kirk and Aunt Gail and their family. On Monday, we flew back to Salt Lake City. Fortunately, we found time to eat at Blimpie's before we left Phoenix.
Scott's parents took Scott and Tiffany out to dinner at Market Street Grill for Scott's birthday. We had plenty to talk about; Scott's parents leave on their mission to South Africa in June and so the next time we will see them will be when we visit them there.
Over the next several days we ran lots of errands. We took Brooke and Tyler to get their portraits taken. We think they turned out really well. At Kiddie Kandids you can buy a CD with the digital picture and the copyright privileges, which we thought was pretty cool.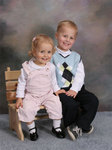 Portrait of Tyler and Brooke
We visited Julie and Craig in Provo. They got take out Mexican from Cafe Rio. Cami and baby Owen came over too. Tyler and Brooke loved all of Maddy and Callie's toys.
Then in the afternoon, we visited Tawni and Dave at their new house in Provo with Tiffany's parents. We bought BYU mint brownies and shopped in the BYU bookstore.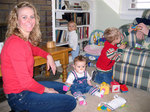 Playing with Lexi
Tiffany's parents took us out to dinner at the Pizza Factory for Scott's birthday. Tiffany's mom got the restaurant to make a pizza in the shape of 31 to celebrate Scott's 31st birthday.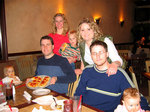 Scott's Birthday
On Thursday, we broke Tiffany's mom's heart yet again by leaving to New Jersey. Tiffany's brother Rob and his family live near Newark. It was nice to break up our trip back home, instead of packing the trip into one 24 hour day. We also got to meet Elizabeth, our new niece, the seventh girl in Rob's family.
We saw their beautiful house, played with all the girls and did some last minute shopping at their beautiful mall.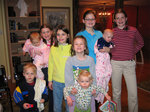 Lots of cousins
We arrived in Tel Aviv very tired. Our friends James and Heidi brought our car to the airport so that we could drive straight home. We collapsed into bed and Scott got up and went to work the next day. We spent the next week recovering from jet lag. Tyler and Brooke kept waking up in the middle of the night ready to play. We were glad that our friends the Beutler's had warned us of this. We are happy to be fully adjusted and finally able to catch up on our long overdue update.
Tyler-isms:
"Dad, what's through there?" - Tyler could hear pigeons on the roof through Grandpa's chimney.
"These are T's, not drink teas, T's for Tyler" - after arranging his cars in T's.
"You're missing Tyler" - from the other room when Grandpa Bob asked if everyone was at dinner.
"I have a headache in my tummy." - After his mommy said she had a headache.
"pumpkin trees", "bean trees", "cacterus" - Cactus that we passed as we drove through the Arizona desert.
"Blue Target" - Wal-Mart

Brooke-isms:
"Hi" - She says this whenever she sees us, even if she said it 5 minutes before.
"Bye" - Said whenever she leaves the room.
While we were on our trip, Brooke got really independent. She decided she needs to feed herself, climb up on everything and run instead of walk.
Posted by sjbowden at
10:26 PM