April 29, 2005
Passover vacation
The week of Passover, Tyler was off of school. Tiffany, Tyler and Brooke went to the Haifa Zoo with Kristin and William Killpack. The zoo had free admittance for the holiday week. It was a fun outing during Tyler's week off.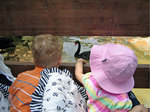 At the Zoo
The park near the zoo has a merry-go-round and a train. Tyler and William both love trains so we let them ride on it after our morning at the zoo.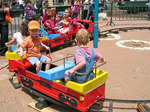 Tyler and William riding a train near the Haifa Zoo
Tyler has been peeling his wall stickers off his bedroom wall. We weren't too happy, but we thought this picture of the kids wearing the stickers was cute. Tyler had fun putting the stickers on everyone's tummies.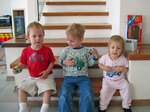 Sticker time
About this next picture, we should clarify that Tyler picked his pajamas (a mismatched set) himself. It's nice to see that our children really do love each other.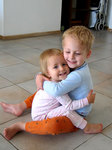 How sweet
On Friday, we visited the Sea of Galilee with the Killpacks. It was a beautiful day with a wonderful view of the lake and a perfect picture opportunity.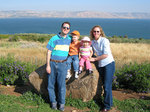 Family Picture near the Sea of Galilee
While we were at the church on the Mount of Beatitudes, one of the nuns wanted to hold Brooke. We don't know if it was the nun's habit or what, but Brooke screamed, and when we set her down, she ran away.
Here in the gardens on the Mount of Beatitudes, Brooke tries her best to keep up with Tyler. She can't run as fast as he can, at least not yet, but she tries.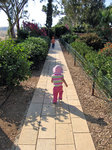 Trying to keep up with her brother
Brooke loves to climb. It makes us nervous. She seems to have no fear. She also likes to climb on our kitchen chairs and then onto the table. We prefer it when she just climbs into her booster seat. We're always amazed at what she can do with her little body.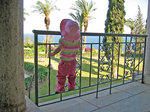 Our little climber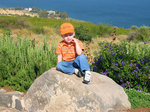 The Thinker
Tyler-isms:
"Oh no! It's purple night time" - Sunset... it means it is almost bedtime.
"I have a lot of bless yous" - Sneezes
Brooke-isms:
"Tee" - Teeth
"Mama" - Mommy. We think she learned this after Bamba, the Israeli snack.
Posted by sjbowden at
8:33 PM
April 25, 2005
Passover dinner
Passover is a very important holiday in Israel. Scott got a day off work and Tyler had many activities at pre-school leading up to Passover and then he had a week off.
One of the things Tyler got to do was make a Haggaddah, which is the story of the deliverance of the Israelites from slavery in Egypt. The Haggaddah is read during the Seder, the Passover dinner. Below is Tyler's coloring of Moses parting the Red Sea. Tyler's pre-school teachers were very thoughtful and sent Tyler home with a video about Moses so we could talk about it with him in English. They wanted to make sure that he understood the story.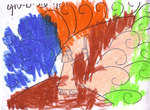 Moses parting the Red Sea (coloring by Tyler)
A few days before Passover, Tyler had a Seder dinner (actually lunch) at school. They ate some of the traditional foods and read the Haggaddah. One of the traditions of the Passover dinner is to leave a cup for Elijah on the table. Each child got a cup for Elijah and a bottle of kid's wine (some non-alcoholic juice).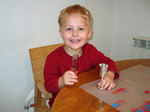 Tyler with Elijah's cup
The teachers at pre-school love Brooke. They often ask why she isn't in pre-school yet! They gave Brooke her own bottle of kid's wine when she and Tiffany came to pick up Tyler from school.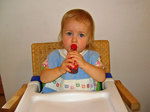 Brooke with her kid's wine
On Friday evening before the start of Passover, Scott's manager called him at home. Scott initially thought there was some problem at work, but actually his manager, Baruch, called to invite us to Passover dinner on Saturday evening.
We met Baruch and his family at his house and then followed them to Petach Tikva where his mother lives. We were a little nervous because we were joining the Seder of Baruch's mother, his siblings and their families. They were all very nice and welcoming.
One of the traditions of Passover dinner is that each child gets presents. Tyler was thrilled that they thought to get him a toy. He loves his toy helicopter and has kept it in his bed since Passover! Brooke got a frog toy for the bathtub.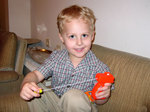 Tyler with his new toy
Before dinner, we socialized and the children played. Fortunately, Baruch's family all speaks English very well. There were also children Brooke's age and Tyler's age for them to play with.
For some reason, Brooke insisted on sitting in her booster seat all evening. We didn't mind; she had lots of fun playing with Mega-blocks, and it kept her from disturbing the older kids.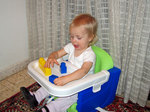 Brooke playing before dinner
Since Baruch is the oldest male member in his family, he led the reading of the Haggaddah. It is in Hebrew, but they had some copies with both English and Hebrew. There are specific places during the program to eat and drink. They were thoughtful and set out grape juice, instead of wine, for us. We ate lettuce dipped in salt to remind us of the tears of the slaves and bitter herbs to remind us of the bitterness of captivity. Matza (unleavened bread) is broken and a piece is hidden for the children to find later in the night. We should note that Matza (Matzot - plural) is more like a cracker than the unleavened bread we would think of. We also ate Matza ball soup, fish, chicken and other traditional foods.
We went through each of the ten plagues and listened to other things about the flight from Egypt. We also opened the door for Elijah. Fortunately, both Tiffany and Tyler had learned the Passover songs, so we were able to join in on the songs. Tiffany learned from her Hebrew teacher and Tyler from pre-school.
We should have taken more pictures of the dinner, but all we have of the dinner itself is Tiffany singing and Brooke plugging her ears.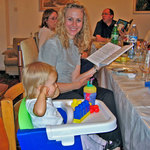 Singing Passover songs
We left Baruch's mother's apartment at midnight. There was lots of traffic on the roads. After we spent half an hour, nearly motionless, on one highway, Baruch suggested that we find another way. So we got off the highway and followed Baruch as we wound our way over to another highway. We finally got home at 3 am. We were lucky though, we found out that the first highway had been shutdown and didn't open back up until 4 am! It was a long, but wonderful evening. We enjoyed experiencing a traditional Passover Seder. We were very glad that Scott had the next day off of work. We were even more glad that our children slept in so we could too.
Tyler-isms:
"I walked to Grandpa and Grandma's in America, then I drove with Mom and Dad on a Passover trip." - What Tyler told his pre-school teachers that he did during his Passover vacation.
"It's like Matzot" - saltine crackers
Brooke-isms:
"Vroom" - car sound

Posted by sjbowden at
10:02 PM
April 22, 2005
Visit to the Baha'i Shrine
Last summer, a family came from Oregon just for a few months to work at Intel. This summer another family came from Oregon to work at Intel until July. They are the Killpacks: Kip, Kristin and William. Just like last summer, this family is also expecting a baby soon. William is almost 2 years old, but is almost as tall as Tyler.
One of their first weeks in Haifa, we took them to see the Baha'i Shrine. We had seen the Baha'i terraced gardens, but we hadn't yet visited the shrine where the founder of the Baha'i faith is buried.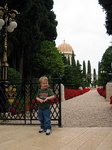 Tyler in front of the Baha'i Shrine
Just like the terraced gardens, the gardens around the shrine are very ornate and well manicured. We wonder if they cringed when they saw three little kids running around.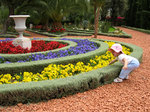 Brooke admiring the flowers
We were allowed to look inside the shrine, but we couldn't go in or take pictures. There wasn't much too see, just some candelabras and Persian rungs over the tomb. It was interesting though.
Brooke and Scott in front of Haifa Bay and the fountains
We all came home covered in orange dust from the terracotta covered walkways.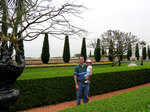 Brooke and Scott in the ornate gardens
One Saturday morning, Tyler woke us up fairly early. He told us that he wanted to go the bathroom, but couldn't because the floor was wet. At first, we thought that he had wet his pants before reaching the toilet, but then we heard the sound of running water. A pipe connection in our water heater had corroded and was leaking water all over the floor. We are lucky that the bathroom and the laundry room floor is about half an inch lower than the rest of the second floor, because all of the water stayed in there instead of running into the hallway and down the stairs.
We immediately started cleaning up because we had church in just a few hours. Unfortunately we were too worried about the water to think of taking a picture. We also had to take showers in cold water because we had to shut off the water to the water heater. On Sunday, our landlord's plumber was able to come by and "fix" the pipe. The pipe leaked two more times before we were able to convince him that he needed to do a better job fixing it.
Brooke is a very happy and playful toddler. Here she is wearing her toy backpack and playing on the stairs.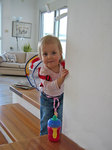 Cuckoo! (Cuckoo is how Israelis say "Peek-a-boo")
Recently, Tyler has really gotten into coloring. He is doing much better. He tries to stay in the lines, but he also likes to fill the entire page. He is very thorough and presses really hard when he colors. Brooke likes to copy her brother, so she has gotten into coloring too. She is much more sporadic than her brother.
Coloring time
Here is a video of a typical coloring session.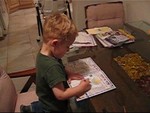 Tyler coloring (video)
This is a picture that Tyler brought home from pre-school.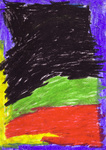 A sample of Tyler's artwork
Our children eating their favorite snack, Bamba: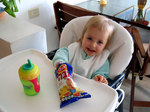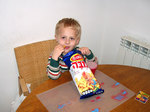 Tyler-isms:
"This doesn't color" - Using a white crayon on white paper.
"I'm just building something, I'm not playing" - Playing with Legos before bedtime.
Brooke-isms:
"Bama" - Bamba, the peanut flavored puffs that children in Israel are addicted to. We once left an entire bag within Brooke's reach and she finished it off!
"Uh-oh" - Why do we hear this one so much?

Posted by sjbowden at
10:47 PM