June 30, 2005
The Dentist and the Concert
We noticed that we were suddenly hearing a lot more pigeon noises on one of our balconies, so we went out to investigate. We found two baby pigeons. We always knew when feeding time was because the babies would start screeching. The babies just learned to fly so they no longer live on our balcony.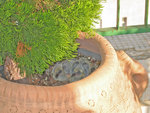 Baby pigeons
Tiffany had another dentist appointment in Herzliya to fix a cavity, so we arranged to have Tyler's first dentist appointment at the same time. He was a little scared, so Scott had to hold him on his lap for much of the appointment.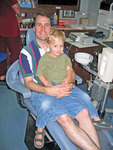 Tyler's first dentist appointment
The dental hygienist was great with Tyler. She had this fun puppet to help Tyler learn how to brush his teeth. She also made the kids balloons out of latex gloves.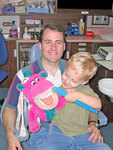 Practicing brushing
Brooke felt like she was missing out on all the attention that Tyler was getting, so she insisted on sitting in the dentist's chair too.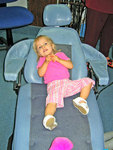 Brooke wanted a turn
Here Dr. Baron is checking Tyler's teeth. Dr. Baron is an American living here in Israel, so it is nice that we have a doctor that speaks English fluently. He also gives great restaurant recommendations.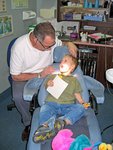 Getting checked out
While Tiffany was getting her cavity filled, Scott took Brooke and Tyler to a nearby playground. Of course Brooke wanted to do everything her older brother did, so Scott helped her climb to the top so she could go down this big slide.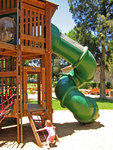 I want to slide too
Here is Brooke on her favorite piece of playground equipment. Every park here has at least one rocking animal. Brooke is an expert at climbing up, rocking and then climbing down.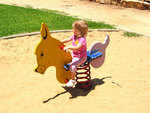 Giddyup horsey
On June 29th, we got to go on a real date. Scott had gotten free tickets to a music festival, the Orange Music Experience. We got a baby sitter (the same one who let Tyler eat as much chocolate as he wanted, but this time with rules about the amount of candy to be consumed) and we went out for the night.
The event was down at Haifa port, right next to the container ships and cranes. They used shipping containers to set up the areas for the performances and concession area. We had a great view of Haifa, which was neat, because we are used to our view looking down to the port and the Mediterranean. They had even covered one area near the water with sand so it looked like a beach.
The festival was sponsored by our cell phone provider, Orange, so we got extra benefits in addition to the free tickets. By sending an SMS to a special number, we got a free gift, a backpack.
They also had good food; we especially enjoyed our chocolate souffles. Unfortunately, they weren't included with our tickets.
The music started out a little weird with an instrumental band from England and then a folk singer also from England, Emiliana Torrini. Emiliana had a song in one of the Lord of the Rings movies, but her performance at the festival was pretty strange. During the show, we sent SMS messages to another special number and the message would scroll by on a video screen.
The band we enjoyed most was Bjorn Again. They look, sound and perform like ABBA. They sing only ABBA songs, so it's was great to hear familiar songs. It was really fun.
The headline act of the evening was Earth, Wind and Fire. We enjoyed it, but by this time it was about midnight and we were exhausted, so we went home. On the way back to the car, outside the port, there were vendors selling cotton candy, so we had to have some for the way home.
Two days later we watched through our telescope while the crews cleaned up the site and moved the shipping containers back into place.
Tyler-isms:
"My foot is out of gas, so I can't hop." - We aren't sure why it was so important to hop.
Brooke-isms:
"Nana" - Banana
"Up" - when she wants to be picked up.
"Down" - when she wants to be put down.
"Blankie" - Yes, she has a favorite blanket.
Posted by sjbowden at
10:05 PM
June 18, 2005
Eilat and Mamshit
Our hotel in Eilat had a wonderful swimming pool. There were actually four swimming pools, connected by short water slides. There was a large main pool over which was a bridge that we used to cross from our room to the dining room. There was a smaller side pool, a kiddie pool and the pool with the play equipment. We spent most of the time in that pool.
When we needed a break from swimming we would go get a sandwich or a popsicle (remember it was all-inclusive). One afternoon Tyler ate four popsicles. His favorite was called a ramzor (stoplight); it was red, yellow and green.
Tyler is getting a lot more confident with his water wings. He no longer clings onto Scott screaming, "Don't let go of me!"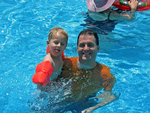 In the swimming pool
Brooke loved the slides. Her favorite slide was the slide connecting the play pool to the main pool. Scott would stand at the bottom and Tiffany would let Brooke go at the top. She insisted on doing it again and again. She also liked this big red slide, but not as much.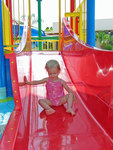 Down the slide
Brooke was a little too confident in the water for our tastes. She kept trying to walk and play in the shallow water by herself.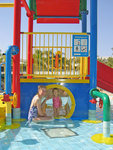 Tubular
Here you can see the play equipment where we spent most of our time. In the background, you can see Brooke insisting on going down a slide again.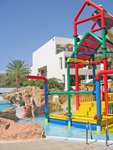 Slip sliding away
This is one of the three big slides at the hotel. Tyler only went down once because he didn't like the way his face got wet when he landed in the pool at the bottom.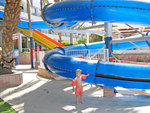 Tyler and the blue slide
We went home a different way than we came for some variety. We saw the location of Israel's nuclear power plant which we never would have noticed except for the signs that said, "Taking photos is forbidden in this area."
Later, we saw another national park, so we stopped. Our national park pass gets us into all the parks without an entry fee. The site is called Mamshit, and was a Nabatean way station, just like Avedat. Tyler insisted on this picture so that his grandparents could see a picture of him there.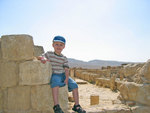 Tyler at Mamshit
Just like Avedat, after the Nabateans converted to Christianity, they built churches at their way stations and then settled down and stopped being nomads. Below is a picture of the ruins of one of the churches.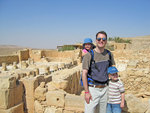 Overlooking Byzantine church ruins
The other church had a beautiful mosaic floor.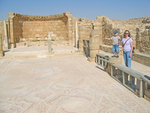 Mosaic floor
Tyler-isms:
"One day with my grandma, we flew in a rocket and flew in the sky to the sun and broke the sun's face and the sun was sad." - We are starting to to hear lots of interesting stories. Many of them include grandma or grandpa. We never knew that Tyler's grandparents were so adventuresome: rockets, race cars, motorcycles, trains, boats and construction equipment.
"Does the sky have a top like this?" (pointing to the ceiling) - We are also starting to get profound questions.
Brooke-isms:
"dadgy" - Scott or Tyler. Brooke isn't picky as to which.
"baby" - doll or baby food (because of the baby picture on the label).

Posted by sjbowden at
10:40 PM
June 16, 2005
Shavuot holiday, Avedat and Eilat
Shavuot is the Hebrew name for what we call Pentecost, or the Feast of Weeks (7 weeks after Passover). It is also a celebration of the harvest. Tyler's pre-school had a party. All of the children dressed in white and brought baskets full of fruit to represent the fruits of the harvest.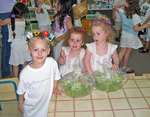 Shavuot celebration
Scott had a few days off of work and our friends Sharon and Itai invited us to go to Eilat with them. They live in our building and are the parents of Tyler's good friend from preschool, Amit the boy. They also have a daughter, Noga, who is one.
On the way down to Eilat we stopped at our favorite roadside stand for labane cheese and lafa pita. It was yummy. After we ate, we bought a glass bottle that Tyler filled with colored sand. He had fun and carried the sand bottle with him whenever we let him.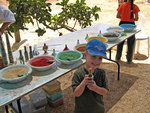 Sand bottle
The last time we went to Eilat, we saw some cool ruins up on a hill along the way. This time we stopped. The site is named Avedat and was a way station built about 100 BC by Nabatean traders on the way between Petra and Eilat. The Nabateans were involved in the spice trade and were the only traders that knew their way across the Arabian deserts. In the fourth century AD they converted to Byzantine Christianity.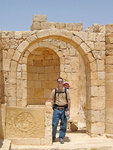 Byzantine chuch in Avedat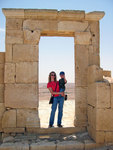 Avedat doorway
After asking to be carried every step of the way, Tyler got a sudden burst of energy and decided to march.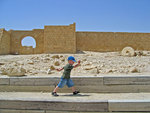 Marching along
Once we got to Eilat, we checked into our hotel, the Golden Tulip. It was nice because it is an all inclusive hotel with food and hotel activities included.
The next day we went to the Eilat Marine Park. It is a mostly outdoor aquarium. First we watched a movie about life in the ocean. We were told it was for children ages three and up, so Tiffany and Brooke stayed outside with Sharon and Noga. Itai, Amit, Scott and Tyler watched the movie. The reason it is for older kids is that the seats in the theater moved to simulate diving under the water. It scared Tyler and Amit, but afterwards they said they really liked it.
Throughout the day, there were scheduled feedings of the different sea creatures. We watched a diver feed sharks and manta rays and later we saw the coral reef fish being fed.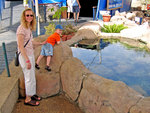 At the Marine park
The gigantic turtles were fun to watch, especially at feeding time.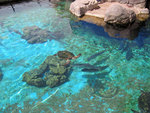 Turtle at the marine park
The neatest part about the marine park is the underwater observatory. We walked down a spiral staircase from sea level to the sea bottom. In the observatory there are windows where you can look out at the brightly colored tropical fish and coral. Tyler was thrilled to see a purple fish swim by. We also saw a poisonous Lionfish.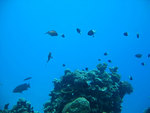 View from the underwater observatory
Tyler's favorite part about the observatory was the yellow submarine that was docked nearby. He kept asking why it goes underwater and he wanted to see it dive.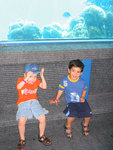 Tyler and Amit in the observatory
Instead of returning to sea level, we took the spiral staircase all the way to the top. There we had a view of the marine park and the Red Sea.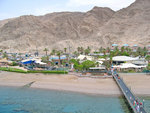 Marine park view
Here we are on the top of the observatory tower with the Red Sea and the country of Jordan behind us. Our hotel was just a couple blocks from the border with Jordan.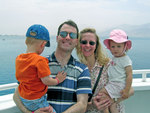 Family overlooking the Red Sea
Tyler-isms:
"I decided I want to go on my mission when I am ten." - We have had a lot of talk about missions because of Grandma and Grandpa Bowden going to South Africa and Uncle Timothy on a mission in California.
"MagnetNoodle" - MagnaDoodle
"It gave me a paper" - Tyler learned how to hit print on the computer.
"Leave a question" - Tyler wanted Tiffany to leave a message for Scott at work.
"My grandma has this movie at her house, but her chairs don't move." - After watching the movie at the marine park with moving seats.
Brooke-isms:
"Poon" - Spoon
"Shhh" - While holding her finger to her lips. usually when Tyler is asleep.

Posted by sjbowden at
9:17 PM