Efrat and Rivi's wedding
One Sabbath after church we drove to the top of one of the hills next to the Sea of Galilee and took this picture. It was a really clear day, so we got to see the Sea of Galilee with very little haze.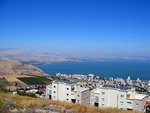 Sea of Galilee
One of Scott's co-workers, Efrat, got married this past week and we were invited to the wedding. We went out to ice cream with Efrat and Rivi a few months ago after they got engaged, and of course we have seen them both at several Intel activities. Efrat is the only woman in Scott's group, and she makes sure that everyone is taken care of. It was the first Jewish wedding that we got to go to. The reception was before the wedding ceremony. We talked with most of Scott's co-workers and sampled some of the fun appetizers.
A Jewish wedding takes place under a Hupa, an arch which symbolizes their future home together. The bride and groom are separately escorted to the Hupa by their parents. Then the rabbi says the betrothal blessing and the groom places the ring on the bride's hand. The rabbi then reads the wedding contract which is written in Aramaic. Next, there are seven blessings. Each blessing was read by a different relative of either Efrat or Rivi.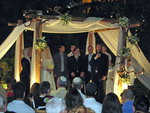 Efrat and Rivi under the Hupa
At the end of the ceremony, the groom has to break a glass by stomping on it. Once he does this, the party starts.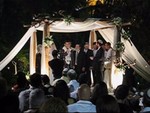 Hupa Ceremony (video)
After the Hupa ceremony, we went to the banquet hall for dinner and dancing. Dinner was nice: roast beef, salmon, chicken and lots of other good food. While we were still eating, Efrat and Rivi performed a dance that they had learned in their ballroom dance class. Rivi's brother and his friends sang a song they had written for the couple and several children sang another song.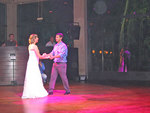 The dance
The dancing started out with a little skit set to music. Rivi's family comes from Yemen, so apparently it is a tradition in their family. In the skit, a man dressed as an old man in robes staggers across the floor with the help of a cane and then collapses in the middle. A woman and another man talk to him and then all of a sudden the old man jumps up, throws away his cane and starts dancing. Then they started pulling in people from the dinner tables. The dancing lasted the rest of the evening. Some of the music was traditional Yemen music and some was popular music.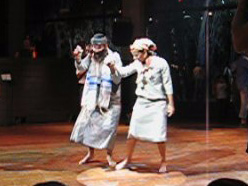 Yemen Dancing (video)
The party was still going strong when we left at midnight. Here is a view of the banquet hall.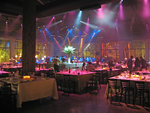 Banquet hall
On Thursday night we had a Tu B'Av Intel party. Tu B'Av is the Jewish Valentine's day. Since it is like Valentine's day, we left the kids with a babysitter and went out for a fun evening as a couple. The party was in Atlit, about half an hour away. At the party there were performers making balloon animals, mimes, and even a "bride" who had lost her groom and was asking everyone if they had seen him.
We had a light dinner, with sushi, pita pizzas and other fun things. Then there was a concert by Ivri Lider, a popular Israeli singer. We even recognized some songs that we had heard on the radio. During the concert, people passed out glow sticks, heart necklaces and candy rings with lights in them.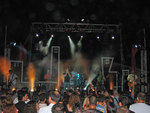 Tu B'Av Concert
At the end of the concert, there were fireworks. We ate some treats and then left for home. On the way out we each got a plush heart that says, "I love you," when squeezed.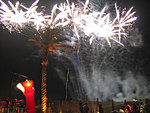 Intel fireworks
Here are Brooke and Tyler posing with all of the loot we brought home from the Tu B'Av party. They had lots of fun with the toys.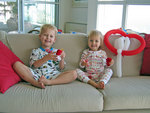 Tu B Av Toys
Tyler-isms:
"Sugar" - Parmesan cheese, as in "Put more sugar on my spaghetti."
"Why did you want me to be Tyler? I wanted to be a different kid" - We don't know who he wants to be.
"I like Haifa, but I really like Yerushalim." - Tyler really wants to go back to Jerusalem.
Brooke-isms:
"Book" - We are now required to read a book before naps and bedtime. It is no longer optional.
"Shoes" - Brooke loves shoes. Almost every day she tries on all of Tiffany's shoes in the closet.
"Open" - When she wants the fridge opened.

Posted by sjbowden at
10:20 PM