Mini Israel and another hospital trip
Our senior missionary couple, the Powells, serving in our church branch are going home soon, so we invited them over for dinner.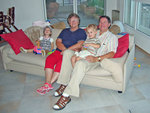 Visit of the Powells
On Friday we went to Mini Israel with our friends Rivi and Efrat. There were umbrellas to shade us from the sun and Brooke insisted on carrying one. It was about as big as she is and too heavy for her to carry (although she insisted on trying), so we were happy to get this cute picture of her holding it up.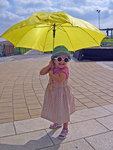 Walk on a sunny day
Mini Israel has all the major landmarks in Israel in miniature. We thought it was fun to see Haifa port, a view we see everyday out our windows.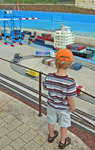 Tyler visits mini Haifa port
Brooke was a little hesitant about walking on the glass over this Israeli town. At first, she either walked on the supports or held someone's hand. She got a little braver watching Tyler run around all over it.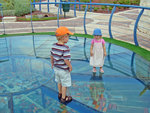 On top of the world
Tyler loved the airport. Many of the vehicles in Mini Israel move, so we had to drag Tyler from place to place, otherwise he would have stayed and watched the boats, cars, trains, cable cars, planes, etc. all day.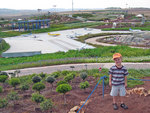 Tyler at the mini airport
At the mini airport, we were very surprised to see a 747 painted like a Southwest Airlines plane. First, they don't fly to Israel and second, they don't fly 747s!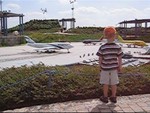 Mini Israel in Action (video)
Here we have a rare picture of Scott and Tiffany together. It was nice that Rivi and Efrat could take pictures of us.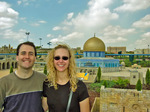 Mini Dome of the Rock
We really enjoyed Mini Israel, especially Tyler. It was the perfect place for him. It was fun to see all the sights of Israel in miniature. We saw a lot of places we have visited and realized there are still so many things we want to see before we leave. We also enjoyed spending the day with our friends, the newlyweds.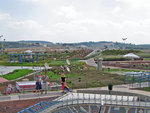 With Efrat and Rivi
After visiting Mini Israel we went to an Italian restaurant near Tel Aviv. It was actually located in a technology park right next to the Intel Tel Aviv site. The setting was very nice and the food was delicious, especially the desserts.
Bowdens at Alfredo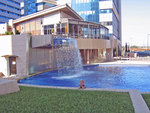 Serious Tyler
On Saturday after church, we had a potluck. We also had many visitors so it was very busy. Tyler had finished eating and was running around with the other kids. All of a sudden Tyler was lying on the steps from the hallway to the eating area and screaming. Someone picked him up and brought him to Scott. Then Tiffany took him from Scott. It was then that we noticed that there was blood everywhere. Tyler had cut himself above his eyebrow on the granite step. Anatoly Sitonin said he would drive us to the hospital, so we left Brooke with the Hansens and rode in the back of Anatoly's car. Anatoly's wife, Irena, and one of the young women, Eliana came along too. Irena works at the hospital so she was able to get us directly to the emergency room doors. Eliana came along to translate and help. She volunteers as an ambulance assistant twice a month.
At the hospital we had to go through the usual rigamarole of filling out paperwork. After just a few minutes a triage nurse came in and checked his pulse and blood pressure. Tyler started screaming that he didn't want to be poked with anything. He really didn't like it when the blood pressure cuff tightened around his arm. We calmed him down and then the doctor came. He took one look at it and said he needed stitches. We then had to move to another room and Tyler started screaming again. He was mad because he liked the butterflies on the ceiling of the first room (the pediatric ER). The nurse helped Scott wrap Tyler in a sheet so that he couldn't move. Anatoly and Scott held him and the nurse kicked everyone else out. It was better for Tiffany to be on the other side of the curtain since she was starting to feel a little faint and emotionally drained. We were glad to have friends there to help.
The nurse tried to calm Tyler down by asking him questions, but it wasn't working very well because she didn't speak much English. Scott told Tyler to talk to the nurse in Hebrew and then the nurse gave Scott a hard time for not telling her sooner that Tyler speaks Hebrew. The nurse then managed to keep Tyler distracted with questions about his favorite color, the name of his preschool teachers and friends, etc. She asked if he had ever been to the Kinneret and Tyler said no, until Scott explained that it is the Hebrew name for the Sea of Galilee.
The doctor only gave Tyler three stitches, but they were big stitches. We had hoped that the doctor would be able to use glue, but the cut was pretty deep. We paid the bill at the hospital (807 shekels, about 50 shekels more than for Tyler's chin incident). The Sitonin's drove us back to church and we took a few pictures with our helpers and the Sitonin's car, which Tyler called his ambulance.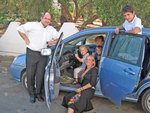 Tyler, the ambulance and crew
On the way home we got pulled over by the police for a routine traffic stop. They checked Scott's passport and driver's license and let us go. We were relieved that they didn't say anything about Scott and Tiffany's blood stained shirts.
On Sunday, Tyler's pre-school teacher said, "We let you have him for the weekend and this is what happens?!"
Tyler-isms:
"I love you, but I don't love your feet" - Lying on the couch next to Tiffany's feet.
Brooke-isms:
"broke" - When something doesn't work.
"hot dog" - a favorite food.

Posted by sjbowden at
9:53 PM