Karlovy Vary and Karlstein
On the way from Salzburg back to the Czech Republic, we drove through the Salzkammergut, a beautiful region that is a World Heritage Site. It is full of clear lakes, mountain peaks and green forests. We really enoyed driving through it. Both Brooke and Tyler fell asleep, so we ended up not stopping along the way. However, we had to stop once on the road so that a work crew could knock loose rocks off the mountainside. It was fun to watch them start small avalanches and then clear the rocks off the road.
We had planned on staying the night in Linz, in northern Austria, next to the border, but we reached there at noon so we decided to continue on to the Czech Republic. Early in the afternoon we stopped to eat at a KFC. It was fun to eat at a non-kosher KFC. The kids had lots of fun on the playground. Tyler had fun, but we noticed that he wasn't quite himself. We realized that he had a fever so we gave him some Tylenol. We continued on to a city called Plezn. After a few tries we found a reasonably priced hotel. Since Tyler wasn't feeling very well, we let him watch cartoons as we got ready for bed. He ended up having a pretty rough night, waking up and saying some bizarre things.
When we got up in the morning Tyler was feeling much better. We drove to Karlovy Vary, which is also known as Carlsbad. It is a spa town, with natural hot springs. After checking into a hotel, we wandered around the town. We really didn't know what to expect, but we really enjoyed it. There are two pedestrian zones - one that is on both sides of the warm water river through the town and another one in the downtown area. Both areas are full of little shops selling crystal, porcelain and jewelry.
For many years people have gone to Karlovy Vary for spa treatments and to drink the mineral water. We thought the mineral water smelled funny and looked too hot to drink, but to each his own. We did, however, buy a small porcelain pitcher which is the traditional method to drink the water. One of the great things about the town is eating the spa waffles. They are actually more like wafers, but they are very good, especially when warm. We bought lots fresh, and also bought boxes of them to take home.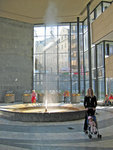 Karlovy Vary spring
On the far side of town from our hotel there was a funicular up to the top of a small hill. We knew Tyler would love it so we had to ride it. At the top there was a tower. We were able to ride an elevator to the top of the tower, where we had a beautiful view of the town. Scott took this fun panorama.
Karlovy Vary Panorama
We played on playground equipment at the base of the tower and then rode the funicular back down. We continued walking around town and admired the five star Grand Pupp Hotel. We had been told to stay in that hotel, and that it cost about fifty dollars to stay there ten or fifteen years ago. However, it was way outside of our price range at about four hundred dollars a night!
We then rode another funicular up to the Imperial Hotel, a large, beautiful four star hotel. We had a snack, admired the view and then rode back down. We ate doner kebabs for dinner and then went to bed early.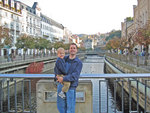 Karlovy Vary
The next morning we drove to a castle just outside of Prague named Karlstein. You may notice the name Karl pops up a lot. Both Karlovy Vary and Karlstein are named after Charles IV, a Holy Roman Emperor who lived in the 14th century. Karlstein is a Gothic castle built on a hill. We had to wait a while for the English tour, but it was very interesting. It was on our tour that we ran into another Israeli family. Tyler was shy, though and didn't want to talk to them in Hebrew.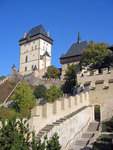 Karlstein
After the tour, we walked back to our car. On the way we stopped and ate sausages and then bought a Bohemian crystal vase.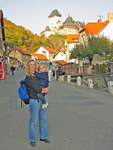 Road to Karlstein
As the sun started to set we drove back to Prague and returned our rental car to the rental office at the Hotel Intercontinental. We were able to take one of the hotel's Mercedes shuttles to the airport. We wandered around and killed time at the airport until our flight left at midnight. One of the highlights of our airport time was watching a luggage saran wrap machine. For about three dollars they would spin the suitcase on a machine that wrapped it with a large roll of saran wrap to protect it. We even wrapped a couple of our own pieces that needed some extra protection.
We had a wonderful trip to the Czech Republic and Austria. It was very relaxing and we got to see lots of fun things and eat lots of great food.
Tyler-isms:
"I can't reach my cough medicine." - while delirious.
"I can't find my yellow blanket. It is in your pocket." - also while feverish.
"Amit and Or are teaching me Czech at school." - Apparently, Tyler's two best friends know Czech.
"How come they have Hebrew shows here?" - Tyler was surprised to see shows he recognizes, such as Bob the Builder, in the Czech Republic. He didn't seem to notice that they were in German.
"Daddy keeps parking the car." - After Scott stalled the car with its manual transmission a few times in a row.
Brooke-isms:
"hand" - As in, "I want to hold your hand and walk instead of being carried." Actually means that she wants to run away from us.
"vafa" - waffle, especially the Karlovy Vary spa waffles.
"Ohhh" - As in, "I understand now."

Posted by sjbowden at
10:10 PM