It's a ...
Our original ultrasound appointment was cancelled due to the snowstorm we had. Tiffany was able to reschedule for the afternoon. However, we had to wait over an hour and a half past our appointment time because they were running so far behind.
Hand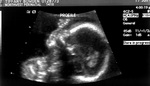 Profile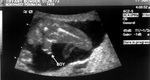 It's a boy!
Tyler is so excited that he will have a little brother. Tyler said he will be his best friend. He kept saying, "I can't believe I got what I wanted." Brooke took the news well and was happy even though she had requested a little sister. She said, "I love boys."

Posted by sjbowden at
10:50 PM
Snow Snow Snow!
We have had a few snowstorms recently. The first one was a week ago.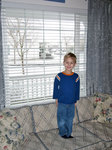 The first snow
Snow where we live is unusual and so it pretty much shut down the city. Unfortunately we got Tyler ready for school before we realized school was cancelled. Scott went into work because he had some meetings with other Intel sites. Fortunately we live close enough that he can walk to work. We were supposed to have an ultrasound to determine the baby's gender on Wednesday, but it will still be closed.
Tiffany was nice and took the kids out to play in the snow. They loved it.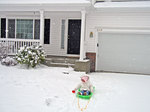 The big snow
Brooke cried when it was time to go back inside. She wanted to stay out all day.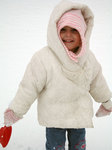 Bundled Brooke

Posted by sjbowden at
10:24 PM
Christmas Letter 2006
We had intended to send out this Christmas letter weeks ago, but we were delayed for many reasons, including a 48 hour power outage and various rounds of the flu. So without further ado:
Happy Holidays from Hillsboro!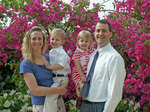 Christmas 2006
We are grateful, but a little sad, to be back in Hillsboro. It is hard to believe that we have already been home from Israel for over four months. We still don't feel settled but we are adjusting to life in the States. We miss Israel and our friends there very much.
We have had a very busy year. We had lots of company visit us in Israel. We were able to travel to South Africa to visit Scott's parents who are serving a mission. We also traveled several places in Israel, such as Eilat, Jerusalem and the Golan Heights. The end of our stay in Israel was an adventure. We got to visit the inside of our apartment bomb shelter, listen to air raid sirens and hear rockets landing nearby.
On the way home from Israel, we stopped in Belgium and had fun visiting where Scott had served his mission. It was a nice break in the middle of our stressful move. Once we returned to the States, we bought a minivan, drove to California twice and flew to Utah once. Scott had a bout with pneumonia, and Tyler had another visit to the emergency room for a set of stitches to match the scar above his other eye.
Scott has been busy at work transitioning back into his group in Oregon. He is still helping out the team in Israel which requires him to go in to work early twice a week. Scott is thrilled to live near a library full of English books again. He has been busy with his church calling and house projects such as installing shelves, a new dishwasher and a new kitchen faucet.
Tiffany is happy to live closer to family. She is not so happy that she has to get up early to get Tyler off to school. She hasn't managed to catch up on her scrapbooking, but is enjoying catching up with her friends in the attempt. She spends much of her time in her new minivan taking the kids to tumbling, the library, and running errands all over town.
Tyler (5 1/2) loves kindergarten, especially recess and riding a yellow bus. He is obsessed with the movie Cars, but we are trying to keep it under control. He has enjoyed learning to ride a bike and is busy learning to read and write. He loves his backyard, Legos and trains.
Brooke (3) has started talking a lot more since we returned home. She always tries to keep up with her brother and is sad that she can't go to school too. She loves her dolls and is careful to tuck them in and kiss them good night. She is very social and loves preschool and church nursery class.
Baby (-6 months) is getting bigger every day and therefore so is Tiffany. He or she is expected to arrive around June 16th. We are thrilled to have a new baby on the way.
At this wonderful time of year we are grateful for our blessings: family, health, safety and especially the joy that the gospel of Jesus Christ brings us. We are also grateful for each of you and hope you feel the peace and joy of the season.
Love,
Scott, Tiffany, Tyler and Brooke Bowden

Posted by sjbowden at
11:23 PM