Trip to the coast
On Friday, Scott took work off early and we drove to the Oregon coast to celebrate our 9th anniversary. We left Brooke and Tyler with Jacki (Thanks Jacki!). It was a beautiful drive, although a bit rainy.
The first picture is a scan of a postcard of Otter Crest, where we stayed. Of course it wasn't this sunny since it is March in Oregon. We enjoyed staying there during the off season since it was uncrowded and very quiet. This is the same hotel that Scott stayed in with his family when he was growing up.
We had a relaxing dinner in the Flying Dutchman Restaurant at the hotel. Scott had a seafood platter with shrimp, wild salmon and a crab cake. Tiffany had a wonderful steak. We finished the meal off with a chocolate orange truffle cake. It was wonderful to have a quiet dinner without any distractions. We actually had a pleasant conversation without one mention of characters from the movie Cars or anything about Disney princesses.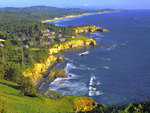 Otter Crest
After a relaxing night and getting to sleep in, we had another enjoyable meal in the restaurant. Scott had a shrimp and spinach omelet and Tiffany had french toast coated with toasted almonds and hazelnuts served with raspberry syrup.
We then walked down the stairs to the beach. It was high tide, so there weren't any tide pools to explore. The weather was cloudy with a misting rain, but it wasn't really cold. The pictures aren't very high quality because we forgot the camera so Scott had to take the pictures with his cell phone.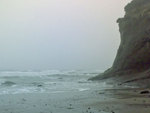 Otter Crest beach
This is the view from our room. We really enjoyed having an ocean view.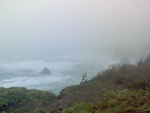 Otter Crest view
After checking out of the hotel, we drove to Devil's punchbowl. It was fun to watch the waves surge inside. We didn't eat at Mo's, the famous Oregon seafood restaurant, because the Devil's punchbowl Mo's doesn't open until late March. Besides, we were still full from our delicious breakfast.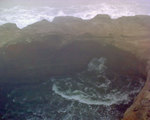 Devil's Punchbowl
Then we started driving back home. We were fortunate that the sun came out and the weather became very nice. Tiffany enjoyed our stop at the outlet stores and fortunately Scott survived it. We arrived home mid afternoon. The kids had a wonderful time with Jacki and her boys. They didn't miss us at all. In fact, Tyler spent the rest of the afternoon moping because he missed his friends.

Posted by sjbowden at
10:26 PM