Chris and Mary's Wedding
On Friday morning we dressed in our chocolate brown wedding attire and drove to the San Diego temple. We were fortunate that the weather was beautiful. The older cousins watched the younger cousins during the ceremony.
We took pictures of the kids while the bride and groom were getting ready for their pictures.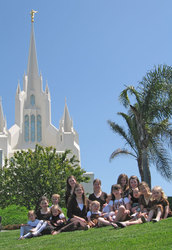 Cousins in front of temple
Brooke and Tyler were very excited to see their uncle Chris after the ceremony.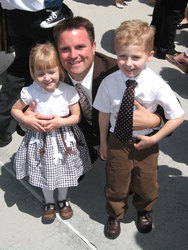 Brooke, Chris and Tyler
Here are the bride and groom with the Etherington family.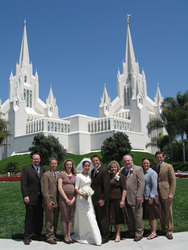 Etherington family
After all the wedding pictures were taken, we drove to the Hotel del Coronado for the wedding luncheon. Each place setting had a little brown box filled with cream and brown M&M's printed with the date and Chris and Mary's names. Tyler and Brooke loved their little boxes. The food was delicious and it was great to be together with everyone. There was also a nice program with a couple of musical numbers. It was fun to hear how Chris and Mary had met and about their engagement.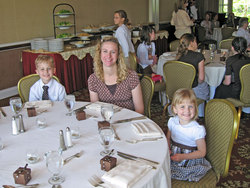 Wedding Luncheon
The view from the luncheon room was fantastic.

Hotel del Coronado panorama
After the luncheon we went onto the beach to play. We had hoped the kids would just play on the sand, but before long they were playing in the water. Tiffany was happy that their clothes survived.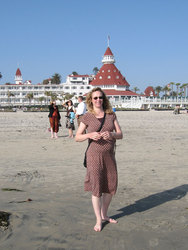 Tiffany in front of the hotel
Scott had to keep a pretty close eye on the kids because they kept getting hit by waves they weren't expecting.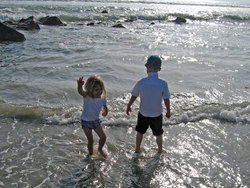 Playing in the ocean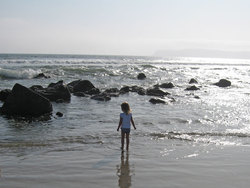 Enjoying the waves
Next the whole Etherington family went to Seaport Village, a fun place they visited often while they lived in San Diego. We wandered around the shops and had dinner.
On Saturday morning we just relaxed until it was time to check out of the hotel and head to the airport. We were glad we remembered to take a picture of our rental car. We were allowed to pick which car we wanted and Tyler picked the PT Cruiser. It was fun to drive and Tyler kept telling us how lucky we were to get a "cool" car.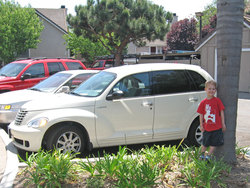 Our PT Cruiser
Tyler-isms:
"Now Chris and Mary don't have to be just friends."
Brooke-isms:
"I want to get married here." - in the San Diego temple.
"I want flowers, pink flowers." - about her wedding.

Posted by sjbowden at
10:29 PM