Trip to Lyon
In planning our trip, we were hoping to meet up with our friends the Beutler's, who are living in Geneva, Switzerland. They had the great idea to meet in Lyon for a little weekend trip. Russ and Lisa have three kids; their oldest, Madeleine, is about Tyler's age and Elodie is about Brooke's age. Their youngest, Camille, is one year old.
By TGV, the French high speed train, Lyon is only 2 hours from Paris. We had to get up a little earlier than we are used to on our sabbatical so that we could catch our 8 am train. The kids, especially Tyler, loved the TGV. We were even able to travel in first class, because a special made the first class tickets cheaper than regular tickets. Note that in French trains, a first class ticket is a small step up from second class, not a huge step up like on airlines.
We had brought along some breakfast, so we had a nice time eating and watching the scenery on the way to Lyon.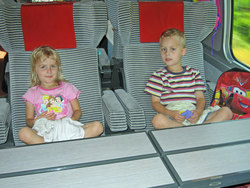 In the TGV to Lyon
Russ met us at the train station and drove us to the hotel. Our room wasn't ready yet, so we put our things in the Beutler's room and spent some time catching up and letting the kids play together. Then we headed out to explore Lyon. As usual, the kids had a wonderful time on the metro.
Friends on the Metro
First we headed downtown for some lunch. We ate at a fun sandwich shop called Pomme de Pain. Then the adults talked while the kids played at a playground. It was pretty warm so after we headed into Old Lyon, we bought ice cream bars and popsicles. Then we toured Saint John's cathedral which has a working astronomical clock from the 14th century.
Next we went to a miniature museum. There are rooms full of miniature displays, some of which were used for scenes in movies. Most of the miniatures are room interiors and are set in display cases, so it is like looking through a window into a little room. For example, there were miniatures of a swimming pool, a market, a restaurant, a theatre, a school room and much more.
We went back to the hotel and all the kids, except for Caleb, swam in the swimming pool/hot tub. It wasn't exactly a swimming pool but was larger and cooler than a hot tub. It was a great size for the kids and they had a blast. We ordered pizza and had it delivered to the Beutler's room and ate it together.
The next morning we took a metro and then a funicular to the Basilica Notre Dame of Fourviere up on the hill overlooking Lyon. It is pretty impressive and was recently cleaned.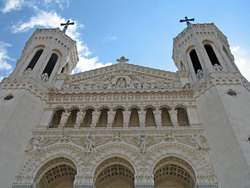 Basilica Notre Dame de Fourviere
Tyler and Brooke thought the confessionals were interesting. They asked us what they were and then giggled as they asked each other what they had done wrong through the wooden screen. We hope they didn't offend any Catholics.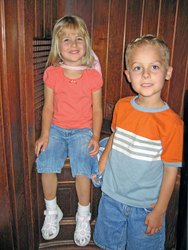 Confessional
Brooke loved helping "take care" of Camille, the Beutler's youngest.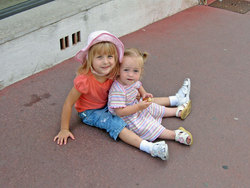 Brooke and Camille
Tyler, Elodie and Brooke thought this little platform was especially neat.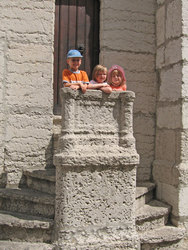 Outside Basilica
To the side of the basilica is a viewpoint that overlooks Lyon. Madeleine, Tyler and Brooke decided to play with the chain that is used to block access to the stairs down to Lyon.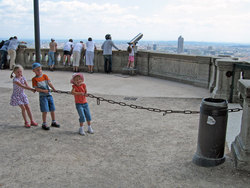 Working on the chain gang
Scott stitched together this panorama of the city of Lyon. Depending on the size of your screen, you may have to scroll to see it all.

Lyon Panorama
We then walked to the Roman ruins, also up on the hill. There are two amphitheaters which are used for concerts today and miscellaneous ruins of a shopping district.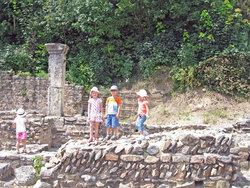 Playing on the Roman ruins
We took another funicular down to Old Lyon and then had a traditional Lyonnais meal. The kids were a little wild because we had to wait a long time for our food, but we survived.
This picture of the fountain and a band in the square of Saint John's cathedral gives a good view of the basilica on the hill and the Eiffel Tower-like radio tower on the right. It was also the spot where we ate our popsicles and ice cream bars the day before. The kids enjoyed watching the band perform.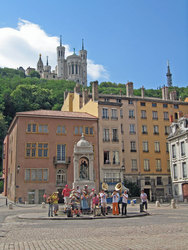 Band in Old Lyon
Afterwards, the kids played at a couple of parks and the adults chatted. Then we went to the mall next to the train station. We had fun wandering around the stores together but then had to say goodbye so we could catch our train back to Paris. Tyler was especially sad to say goodbye to Madeleine.
Our trip back to our apartment in Paris was pretty uneventful. We had a wonderful time with our friends. We hope the Beutlers move back to Oregon soon so that we can see them more often.

Posted by sjbowden at
10:43 PM