Shopping in Paris
On Saturday we slept in due to our late night at the Eiffel Tower. We then went shopping, primarily for Tiffany. She had fun at her favorite clothing store in Europe, Alain Manoukian. However, Scott and the kids were bored out of their minds. Brooke and Tyler entertained themselves by making faces in the mirrors and dancing to the music in the store. Scott talked with another bored American husband who was on vacation from England where he and his wife were working.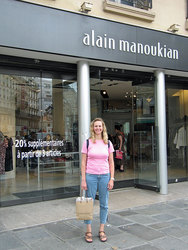 Shopping maniac
Brooke and Tyler loved our apartment building's little elevator. To prevent contention, we made them take turns pressing the buttons. We could just barely fit in the elevator together. However, if we had the stroller or groceries, we had to make multiple trips.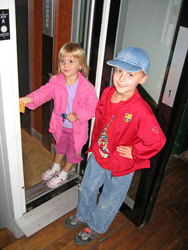 Tiny elevator
On Sunday, we attended the Paris ward for the last time on our trip. We were very surprised to run into Elder Miles, who had served as a missionary in our home ward in Oregon. He was just as surprised to see us there. He was there with the BYU basketball team since they were playing five exhibition games in Paris. Brooke and Tyler were thrilled to see Elder Miles. He is 6 foot 11 inches, so he was a very memorable missionary for the kids.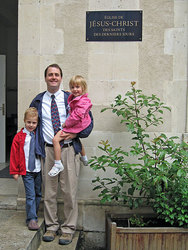 Church sign
At church, we made friends with Michael and Elise, a brother and sister from Canada who were on a trip through Europe. We invited them over for dinner and the kids had a blast playing with them.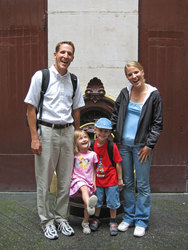 Fun with friends
After our new friends left, Tiffany and Caleb took a nap. Brooke and Tyler were bored, so Scott took them on a walk. We went to Notre-Dame because Tyler wanted to look at the model of the construction of Notre-Dame again.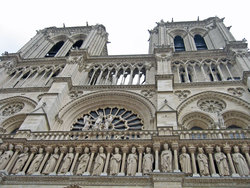 Notre-Dame facade
While in Notre-Dame, Scott managed to get this picture of one of the rose windows.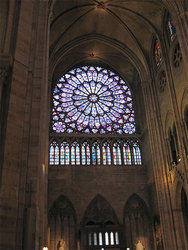 Notre Dame rose window
Scott and the kids happened to be in Notre-Dame during a Sunday evening concert. The video below is a little clip from it.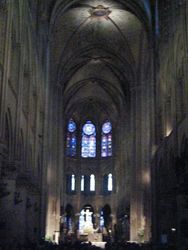 Concert in Notre-Dame (video)
As usual, Caleb has been pretty happy. He loves smiling at people. Everyone is amazed at how good he is.
Happy Caleb
Posted by sjbowden at
11:09 PM