Playdoh, Caleb and Portraits
Note: We hope to catch up on our other posts about Paris during Scott's time off for Thanksgiving.
On Monday, Tiffany thought she would let the kids play with Playdoh. It had been a while since they had played with it and Tyler didn't have any homework. Unfortunately, she remembered why they hadn't played with it for a long time. It should be called Play D'oh!
It started out innocently enough.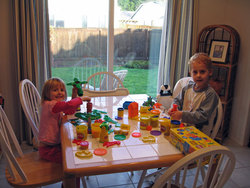 Playdoh fun
However, by the end, Playdoh was mashed into their clothes, caked onto the table and little pieces were all over the floor. Brooke and Tyler then stepped on the Playdoh and tracked it around the kitchen. Fortunately, they did not walk on the carpet.
This picture doesn't really do it justice. Brooke was hiding under the table. It took a long time to scrape the Playdoh off the table, clean the floor and scrape as much as we could off their clothes. We are crossing our fingers that what is left on their clothes washes off.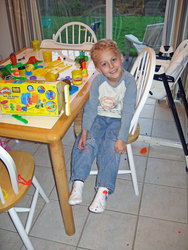 Playdoh everywhere
On an unrelated note, Caleb is a great baby. He has started to sleep through the night. He is a pretty happy baby and smiles a lot. We bought an Excer-saucer from our neighbor and he loves it. He especially has fun when the other kids are playing near him. He squeals and laughs. We think that when they are playing nearby he thinks he is playing with them.
His favorite part of the Excer-saucer is a plastic elephant with nice ears to chew on. It has been hard to get a good video of him playing because he always stops what he is doing and smiles when we pull the camera out.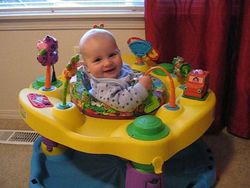 Happy Caleb (video)
On Saturday, we went to get a family portrait. We needed one that includes Caleb. Everyone did really well.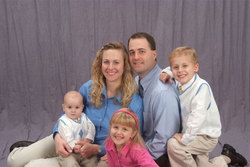 Family portrait
Tyler-isms:
"I don't want to be neat and tidy on my day off" - He had to wear his church clothes on Saturday for the family portrait.
Tyler and Brooke were pretending to be in their Sunday Primary class and played "spotlight". Spotlight is when one of the children, usually around their birthday, is described and the other kids have to guess who it is. Brooke and Tyler picked Caleb. In describing him Tyler said, "His hair - we don't know what color it is, his favorite food is milk and he is very talented when it comes to drooling."

Posted by sjbowden at
9:55 AM