In Johannesburg Jeff's parents know all the great places to eat and took us to Zest, a quaint little restaurant tucked between local artisan shops up in the hills. The food was AMAZING! Chicken kabob with yogurt, cucumber, and sweet chili sauce (heaven!). Jeff had the lamb shank.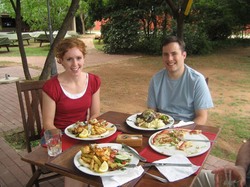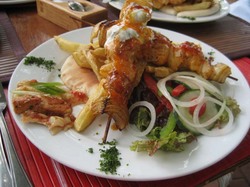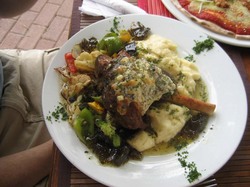 One of the treats of the trip was the soda specialties. Kola tonic and passion fruit lemonade were our favorites. They bring you a glass with one part flavored syrup and a mini can of Schweppes lemonade. We gave James the cans to keep him entertained while we ate.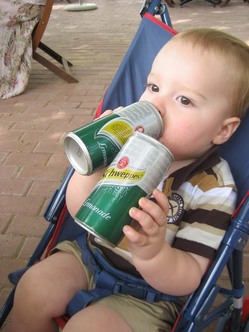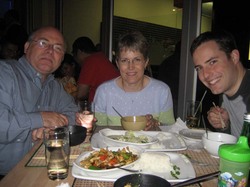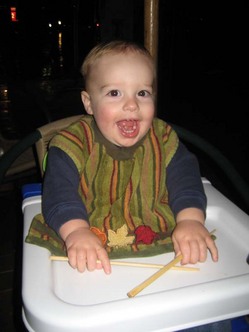 When a tourist you have to do the occasional cliché touristy activity. Jeff's parents took us to Carnivore, an open-air meat specialty restaurant. They serve every type of meat imaginable, including kudu meatballs, crocodile, zebra, impala, blesbuck, and ostrich which is roasted on traditional Maasai swords (skewers) over a huge charcoal pit.
The servers come around with the meat and keep coming until you lay down the little paper South African flag on the table.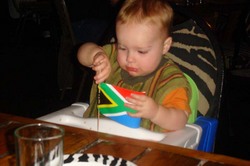 This guy was quite the character. He is pointing to the camera saying "sharp" pronounced "shop" which means cool.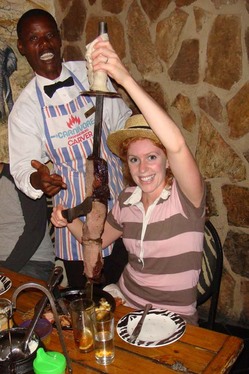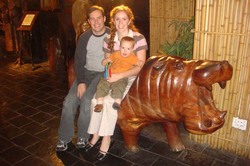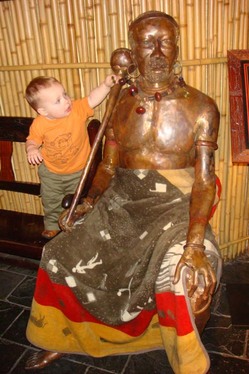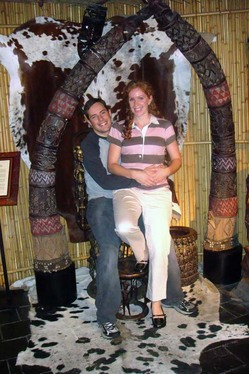 We had so much fun spending time with Jeff's parents. James loved Grandpa's car. He would stand at the door of the kitchen crying until we let him to outside to play in the car. One morning he was still in his PJs so we just put his shoes on and let him out.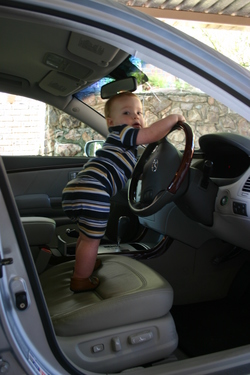 We got to see the Mission office and James had an "interview" with President Bowden.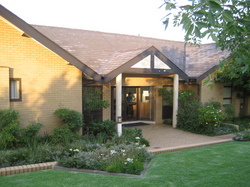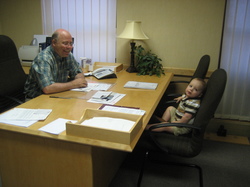 We even helped decorate the Christmas tree. It didn't feel at all like Christmas-time with the weather being summer (the seasons are opposite) and the temperature a nice warm 80 degrees.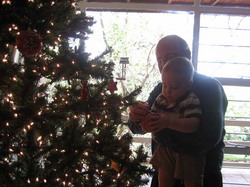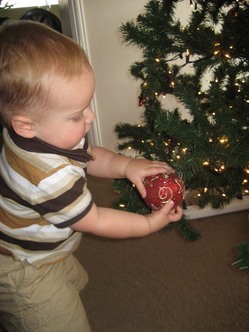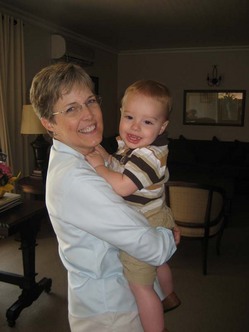 Jeff's parents commissioned an artist to carve a Nativity scene for them. They wanted the figures to look very African so the artist chose to represent each tribe in the various figures. This was our favorite piece of the set showing Mary and Joseph.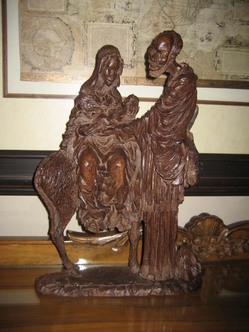 One of our favorite places we visited was the Johannesburg Temple for our church. It was so beautiful, a lush garden amidst the bustling city. The property behind the temple came up for sale a few years ago so now the area presidency offices and distribution center are housed right on the temple grounds.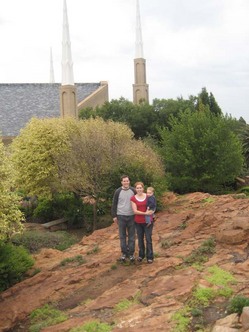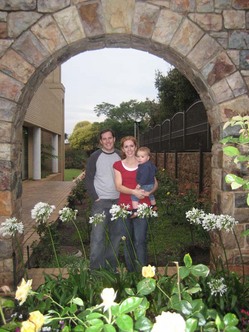 Jeff's parents adopted the saying "Only in South Africa." This is what you say when you don't understand the logic (or lack of logic) behind things you see. When stop lights go out there is no rush to fix them. They just leave them blinking and people manage to take turns. In fact, the light near their house hasn't worked for the past year. One thing we noticed was all the plumbing on all the buildings was on the outside. Not the most attractive but it sure made for quiet inside with no pipes in the walls.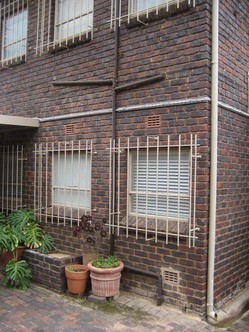 Everywhere we drove around town all the buildings were fenced and electrified. Some even had actual razor wire on top. We never felt unsafe while we were there but we didn't go in any questionable areas and not many places after dark. This picture is a typical view as you drive along the street.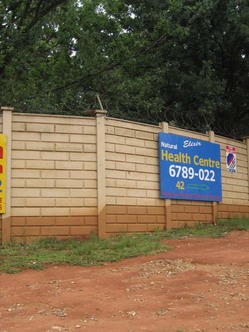 In most parking lots (especially grocery stores) are Car Watch guards. True to their name, their job is to watch your car while you are in the store. When you come back to your car they help back you out and it's custom to tip them 2 Rand (about 30 cents). At the nicer grocery store they will even help you load your groceries and return your cart. How awesome would this be in Oregon when you are juggling bags of groceries, it's raining, and you're trying to get the baby in the car!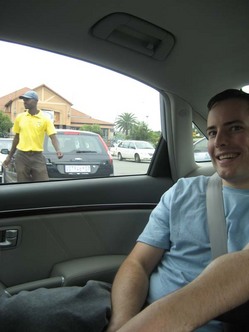 Shopping in a foreign country you are guaranteed to find interesting products. We were looking for another power converter because we managed to blow two of them while we were there. The funny thing about plugs in South Africa is there are European size and South African size plugs so you have to have both converters depending on what size plug your appliance comes with. While shopping we came across this package of Dumpy Crackers. We're still not sure what was dumpy about them.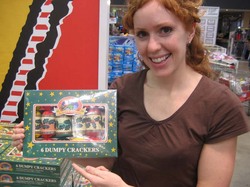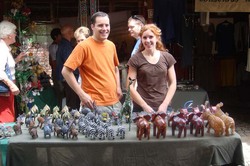 We went to another African Market and did a lot of shopping. The sign hanging over the narrow stalls crammed with goods read, "This is Africa, We Bargain!" And bargain we did! We spent a few hours trying to get the best deal by negotiating prices. The sellers would all hand James toys hoping we would give in and buy them. One funny guy from Ethiopia was trying to get out of giving us change by saying, "You give me extra for Africa!" When that didn't work he wanted us to donate it for Nelson Mandela.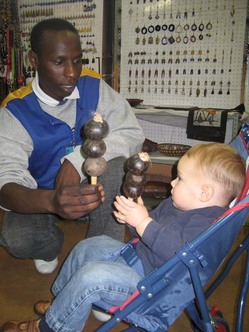 Jeff's dad thought the dung beetle was the funniest thing so when we saw this metal sculpture at the market he just had to buy it.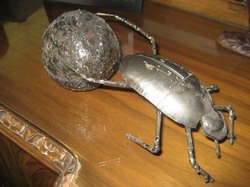 The last day we were there we took pictures in front of the mission home. What an amazing opportunity we had to see Africa and get to experience so many new and interesting things. (Augusta is wearing her new African linen skirt.)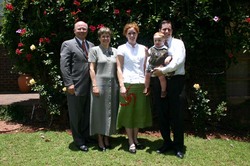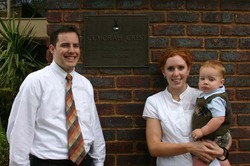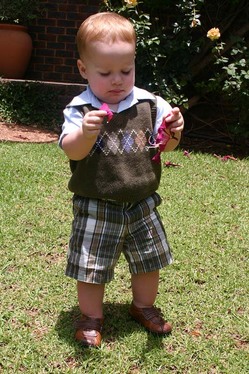 Irene is the family housekeeper and she made our visit so lovely. She really had fun with James and wanted to keep him. She was thrilled one day when we let her stay with him while he slept and we ran to the store. She wanted to see if he would wake up and go to her with none of us around. Unfortunately we got back before he even woke up. Irene is from the Zulu tribe and has a very thick accent when she speaks English. We enjoyed talking to her about her culture and her family. She taught us to say, "Siyanithanda," which means "we love you" in Zulu.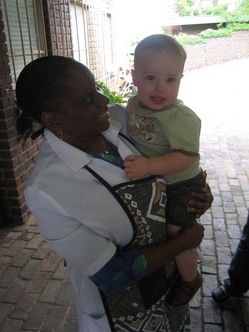 It was time to pack and James was being so helpful. We couldn't quite get across the idea that things go in the suitcases because he wanted all the room for himself. It probably would have been a much easier flight for us to have him secured and packed away for 20 hours on the flight home but I don't think he would have liked that. Somehow we managed to find room for all our tourist treasure.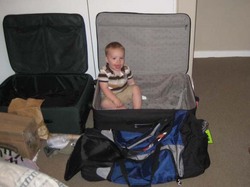 On a whim we checked the internet to make sure our flight was on time. Next to our flight was the status:
CANCELED
! We tried to call the airport but no one answered so we called internationally to Delta and they couldn't help us over the phone. We decided to drive to the airport to see if we could find another flight. We had the Combie all loaded and then it wouldn't start, dead battery! What luck!! We managed to squeeze all the luggage in the car and off we went. However, the trip was futile as we were met with a 3-hour long line and no help. We left our name and number with an attendant who said they'd call us. We wondered if we would ever get out of the country with how inefficient the help had been so far. However, we did get to spend another day in Johannesburg which was some consolation.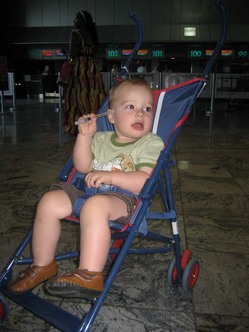 No one called us that day so we finally called the U.S. and spoke with someone at Delta who got us a flight the next night on South African Airlines. However, when we got to the airport we had to wait for an hour in line to get new tickets issued, which they hand wrote, then wait in the baggage line. We were worried about missing our flight so Jeff's dad talked to a security guard about helping us. The guard recognized the missionary name tag he wore and said he was a member of our church. He took us to the front of the line (which we noticed never really moved!) and talked to the other attendant. They spoke to each other in Zulu and we didn't understand any of it except the word "baby." We think they took pity on us because of James but for whatever reason we were grateful they let us go right to the counter. We checked our bags and got to the gate as the plane was boarding.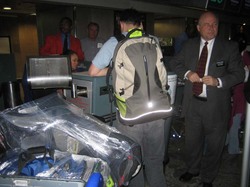 Side Note
: After we got home Jeff wrote a letter to Delta explaining how we were treated and they responded by giving us $400 in vouchers to use anywhere the airline travels.